Anastasia Beverly Hills is blessing us mortals with a HUGE summer collection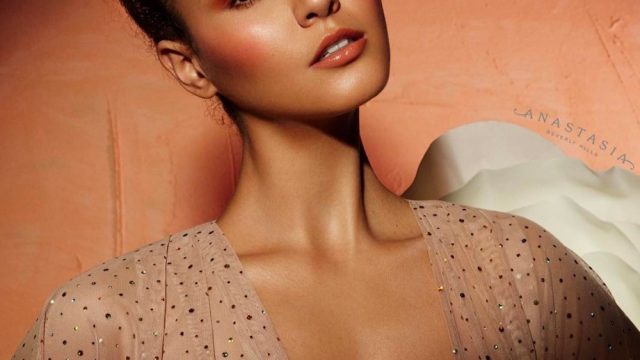 We thought we were in for a treat when we saw the new single shadows headed our way from Anastasia Beverly Hills, but their entire summer collection is absolutely spectacular, and we actually can't handle it. We hope your finances are in order, because there's no way we're going to be able to pick and choose just one thing from this astoundingly gorgeous line. ABH has your eyes, lips, and cheeks covered with these lovely new launches; with lush, sexy shades that will be perfect on those hot summer nights.
The Anastasia Beverly Hills summer collection will be out May 16th.
Aren't those shades gorgeous?
The collection includes:
1Blush Trios, $30
These highly-pigmented, beautiful blush trios will be available at ABH on May 16th, online at Sephora, Ulta, Macy's, and Dillards on June 13th, and in-stores on June 23rd. Luckily for us, they're a permanent addition to the ABH collection, so we won't have to scramble to get them.
2Lip Glosses
This includes a few popular shades from the 2016 summer/fall set, along with some brand new shades. They're highly pigmented and have a flawless application. They launch on ABH on May 16th, online at Sephora, Ulta, Macy's, and Dillards on June 13th, and in-stores on June 23rd.
3Single Eye Shadows, $12
The shades include: Vermeer, Brick, Sunset, Venice, Love Letter, Golden Copper, Gemstone, Rose Gold, Tigers Eye, Realgar, Enchanted, and Ballet. Vermeer, Love Letter, and Realgar are fan faves from the Modern Renaissance palette. Mix and match to make your own DIY palette!
We love how highly pigmented these swatches are, it ensures that they'll look great on a diverse range of skin tones.
We can't wait to get all these gorgeous new summer additions soon. All the shades complement each other beautifully, so you'll be able to create a full face of makeup with these new additions alone and look absolutely stunning. What's on your summer beauty list?