Anastasia Beverly Hills is launching the most colorful and versatile lip palette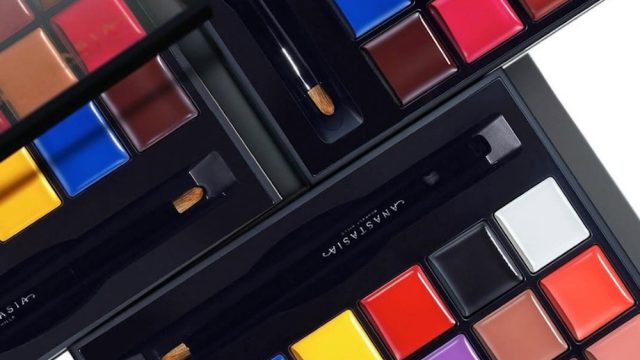 Sure, we all worship at the altar of Anastasia Beverly Hill's brow products — their stuff changed the way pretty much every woman in the country approached their brows in the late '70s and early '80s. Since then, they've gone on to launch a comprehensive beauty line that runs the gamut from every kind of makeup from accessories and tools, to their latest, a bright and beautiful lip palette. It looks to be a new standout among their collection!
The ABH Lip Palette is an inspired addition because it gives us a way to enjoy their awesome lip colors without having to splurge on tons of different lipsticks. Lazy beauty lovers everywhere just want something that will give us options and versatility in one compact product that isn't a pain in the booty to lug around. This is why we just adore palettes of all kinds!
The palette includes 18 stunning lip shades that can be worn just as they are, or custom blended to create a unique look!
That's fancy as hell!
You'll be able to pick up this beauty at AnastasiaBeverlyHills.com on January 10th, and in-stores at Sephora, ULTA, Macy's, and Dillards on March 15th for $48.
And because they know we're all artists at heart and need a way to create our lip colors properly no matter where we are, the palette includes a dual-ended brush and spatula as well as a mixing plate for customizing your lip colors.
Damn, we are gonna look so good!
That's the thing about ABH, they know their stuff! Not only are their products made of insanely good quality, highly pigmented, functional, and long-lasting, but they have a sixth-sense of what it is that their consumers want! They know how to uniquely deliver a product that is imaginative and innovative.
Be ready for that launch come January 10th because we have a feeling that these palettes will be a highly coveted item in the beauty world!