An Expert's Guide to Nail Shapes
From square to stiletto, here's how to find the best one for you.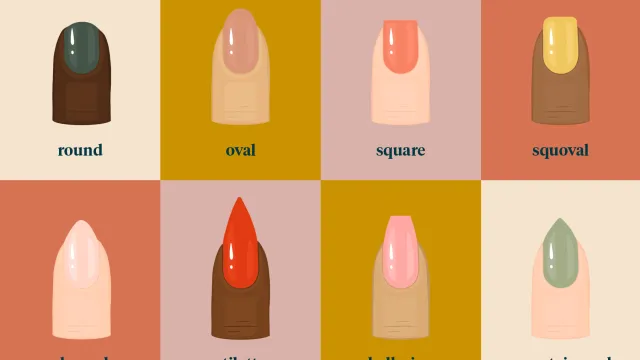 Selecting a nail shape used to be simple. "Square or round?" the nail tech would ask and then expertly execute your answer in just a few strokes of a nail file. But thanks to the likes of Instagram, new nail extension technology like gel nails, Cardi B's iconic claws, and more durable press-on options, there are now a variety of different nail shapes to select from, including some you may have never heard of. In addition to the basics, you can ask for options like almond, stiletto, or even "squoval."
To break down each nail shape, we tapped celebrity and fashion manicurist Deborah Lippmann. With clients like  Lady Gaga, Scarlett Johansson, and Taylor Swift, she's an expert at both natural and exotic nail shapes—and can help you select which style is best for you. To start, you'll want to think about what kind of nail shape works best with your hands. 
"The best way to find the best shape for you is to do a proper cuticle pushing (let your cuticles soak in warm water for a few minutes to soften the skin, then use a cuticle pusher to gently push them back), and then mirror the shape of the tip of your nails to the shape of your cuticles. That will give you the most natural, elongated nail shape," Lippmann advises.
Here's our expert-backed guide on some of the most popular nail shapes.
1. Round Nails
"Round nails have straight sides but are rounded off at the edges," explains Lippmann. These usually look especially natural because they follow the curve of your fingertip. They're best for those who like to keep their nails clipped on the short side and can be easily accented with cool, colorful tips like in this photo.
Pair with: NAILS INC "Naked In Neon" Set, $22, Sephora.com.
2. Oval Nails
Oval nails have a similar round shape, but the corners and sides curve more inward. This provides a more dramatic oblong shape that can make nails look longer and fingers appear slightly more slender.
Pair with: Smith & Cult Nail Lacquer in "Peaceful Paranoia," $18, Dermstore.com.
3. Square Nails
Square nail shapes have no soft edges. They have blunt, straight lines on all sides and come to a flat tip. If you have long, narrow nail beds, this nail shape will work well for you. 
Pair with: Sally Hansen Color Therapy Nail Polish in "Well, Well, Well,"$8.99, Amazon.com.
4. Squoval Nails
"This shape is similar to square nails, but the edges are a lot softer," says Lippmann, who adds that it's a good medium between square and oval. This is also one of the most universally flattering shapes and can be worn at virtually any nail length with any color or design. 
Pair with: Deborah Lippmann Gel Lab Pro in "Modern Love," $20, Bloomingdales.com.
5. Almond Nails
Another universally flattering nail shape is almond. As Lippmann's favorite shape, she explains that these nails are slim on the sides and wide on the base and come to a rounded peak. Your nails need to be a little longer to achieve this, though, so it is often done with nail tips or extensions.
Pair with: Essie Nail Polish in "Ballet Slippers," $8.77, Amazon.com.
6. Stiletto Nails
Bring on the drama with stiletto nails. "These are similar to an almond shape, but with a much more drastic point," Lippmann tells us. Again, your natural nails are probably too weak to pull this off, so stiletto nails are often achieved with extensions.
Pair with: Orly Nail Polish in "Champagne Slushie," $9.50, Orly.com.
7. Ballerina Nails
Ballerina nails (also known as coffin nails) are more narrow than your typical square shape, but have a squared off tip, says Lippmann. These nails tend to have a more sculpted look, and are meant to resemble a coffin or a ballerina's slipper. They can only be achieved with extensions or tips as your nails need to be quite long to pull off the desired shape.
Pair with: OPI Infinite Shine Long-Wear Nail Polish in "Passion," $13, Ulta.com.
8. Mountain Peak Nails
Mountain Peak nails have a similar shape to the stiletto, but because they're usually done on shorter nails, the end result is a much more dramatic "peak." If you have shorter nail beds, this shape can make your nails appear longer.
Pair with: Zoya Nail Polish in "Blu," $10, Amazon.com.