Amy Schumer's father stood for the first time in years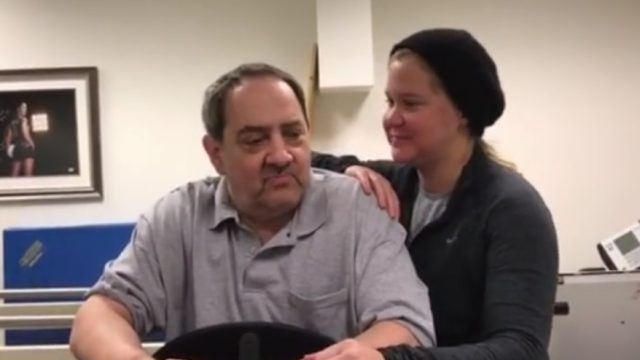 It's difficult to see a parent in pain — but sometimes, you get a hopeful moment or two. After suffering from multiple sclerosis — known best as MS — for well over two decades, Amy Schumer's father Gordon was able to stand for the first time, all thanks to a medical device. Typically, he gets around with the help of a wheelchair.
MS, which is a lifelong condition, happens when nerve damage disrupts communication between your brain and your body. According to the National Multiple Sclerosis Society, most individuals get diagnosed between the ages of 20 and 50. Schumer's father was diagnosed when the actress was only 12, meaning that she's watched him suffer for the majority of her life.
But just yesterday, the two of them were able to stand shoulder-to-shoulder. In the video she shared on Instagram, Schumer was right next to him the whole time, providing support. It was obviously a beautiful moment the two of them shared, and the comedian was thankful for all of the doctors who made it possible. "My dad stood today with the help of a device. But he stood," she wrote in the caption. "Thank you to his nurse Sam. Dr Kanter and Dr Sadiq everyone at Tish for their MS stem cell work. Also Pure Prairie League for their song 'Aime' his favorite song. We had a good day."
https://www.instagram.com/p/BbkrGBlF6UZ
In the video, her father jokes that he "hates" the song playing, yet later admits to doctors that Schumer was named after it.
https://www.youtube.com/watch?v=u4xp2lgiAjY?feature=oembed
But the most emotional part of the video was when Schumer was able to lean on her dad.
"We haven't stood next to each other in a while," she said.
In past interviews, she's admitted that her father has had good days and bad, thus making her caption of "We had a good day" even more powerful.
"Some days, he's really good and he's with it and we're joking," she said to Barbara Walters. "And some days I go to visit my dad and it's so painful. I can't believe it."
We hope the two of them have more good days ahead.