Amy Schumer says there were ~zero~ games when she started dating boyfriend Ben Hanisch
As if we didn't already have enough reasons to swoon over Amy Schumer, here's ~yet~ another. The comedic genius and all-around funny girl just got real about her relationship with her super-sweet BF, Ben Hanisch, and let's just say the two are basically #RelationshipGoals IRL. Because while Amy certainly loves to play hysterical characters on stage, she is *not* about to play games when it comes to dating.
On the topic of meeting her boyfriend over a year ago, Amy said:
"I didn't have to change him. Some dudes you're dragging them up a hill, like 'c'mon, make more of a commitment to me!' I didn't have that labor with him," Miss Schumer dished to HelloGiggles at the Snatched junket. "We really liked each other. He was like, 'I'm into you, I'm into this. I'm down. I'm with you, let's go.'"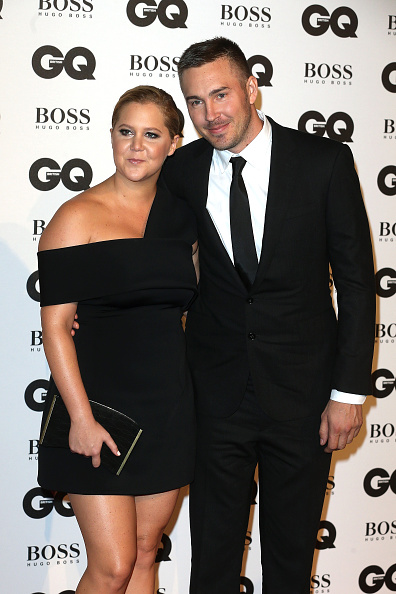 "Neither of us was looking for a relationship when we met, it wasn't even a question. [But] we really liked each other, and liked being around each other."
As a matter of fact, the two vibed *so* well that they didn't even DTR until after Ben had been calling Amy his girlfriend for weeks!
"I remember after like a couple weeks or maybe a month, I was like, 'Are we…?' Because we hadn't said what we were [officially]," Schumer told HelloGiggles. "He was like 'Oh, I've been totally thinking of you as my girlfriend for a while.' It was just this sweet feeling. It was easy. We felt like friends pretty quickly. The attraction was there, the friendship was there. It was easy."
Simply put, there were no games.
"I didn't have to trick him or dress differently. It wasn't like, 'Oh, he didn't text me back, so should I text him this?'"
Aweee—excuse us while we shed some serious tears, because these two are too stinking cute!
But like the Amy we know and love, she's totally real about her relationship with Ben, whom she's been dating officially for more than a year. As in, their relationship isn't all butterflies and candy hearts 24/7.
"We'll have a week where it's the best and we're super in love," she explained. "Then a week where we're kind of just quiet and next to each other and nothing's wrong. And then a week where we kind of want to kill each other. It's a real relationship."
Nope, we didn't think it was possible. But we just found a way to love Amy and her beau even more than we did before. #FeelingAllTheFeels.