Amy Schumer Reveals She Went Through IVF For Her "Own Safety"
After battling hyperemesis during her first pregnancy, Schumer decided to take another route.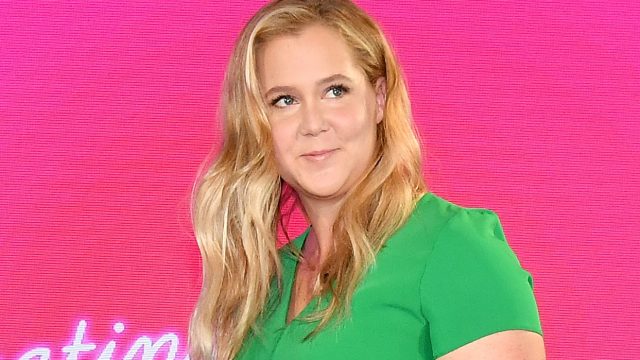 Amy Schumer remains hopeful that another baby is in the cards and that her two-year-old son Gene, whom she shares with her husband Chris Fischer, will have a sibling to grow up with. However, because of her hyperemesis diagnosis during her first pregnancy, getting pregnant again could pose a big health risk for not just the baby, but for Schumer as well. So, in early 2020, Schumer made the decision to go through IVF in order to explore other options.
While a guest on a recent episode of the Anna Faris is Unqualified podcast, the 39-year-old mom and comedian explained, "I, for my safety, cannot be pregnant again." Hyperemesis often results in nausea, vomiting, weight loss, and electrolyte disturbance, and typically requires additional hospital visits, discomfort, and monitoring for expecting mothers. 
One in three mothers with hyperemesis, what I had, one in three babies don't make it. So I really don't like those odds. Just because you're vomiting so much you can't nourish your baby or yourself, so my pregnancy was a huge bummer, Schumer told Faris.
Throughout her journey, Schumer has been nothing but open and honest about her whole experience with pregnancy. Much of that translates in her most recent comedy special Expecting Amy. The comedian confided in Anna Faris that she was "really nervous" and a little hesitant about the new special because she was so vulnerable, and she didn't want to scare other couples or individuals from having children. 
"I was scared that it would discourage people from getting pregnant. Especially for the first time because of the possibility that you could get that sick,"  adding, "I was honestly scared that I was gonna affect the population the other way."
Nevertheless, it's been almost two years since she gave birth and the mom is ready to discuss her options and chances of welcoming another child.
"We went through IVF because I was like considering surrogacy…so IVF was equally, well not equally awful for me, but my body really reacted poorly to IVF," Schumer said. "But we got a couple embryos, so we don't know."
Given the COVID-19 pandemic, Schumer said she and Fischer are focusing their energy on Gene and aren't trying to speed up the process of having another child.
Emily is a NYC-based freelance entertainment and lifestyle writer — though, she'll never pass up the opportunity to talk about women's health and sports (she thrives during the Olympics).
Read more