Here's how people are reacting to Amy Schumer's possible joke about Taylor Swift's thigh gap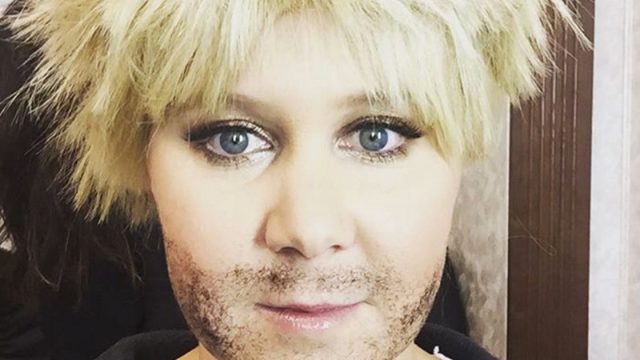 This week, the 2016 Grammy Awards went down, and Taylor Swift was one of the prime subjects of conversation. She won Album of the Year, gave an intense acceptance speech that may or may not have been throwing shade at Kanye), and debuted her new haircut. People are talking about all of that, but they're also talking about her daring, fluorescent ensemble.
But now people have shifted their focus to something else: Amy Schumer's latest Instagram that may possibly be dissing Swift and her Grammys outfit/leggy look. Schumer recently took to Instagram to share a picture of her and her friend in bathing suits having fun on the beach. Seems innocent, right? Except many T-Swift fans are taking issue with the caption. "Taylor that's not a thigh gap," Schumer wrote in the caption. "This is a thigh gap."
Many seem to think Schumer might be subtly body-shaming, and they've been commenting on the post in defense of the Grammy-winning pop star.
"That's called skinny shaming, and it's just as hurtful and rude as fat shaming," one commenter wrote. "People come in ALL shapes and sizes FYI."
"You both have very different, yet very beautiful body types. No need to shame others or yourself. Spread love and empowerment, not negativity," wrote another.
One commenter, hayyylo, wrote an lengthy comment explaining that the post hurt her personally:
Others still say that it's not even a real issue:
Schumer has responded to the criticism with another joking shot of herself wearing a fake beard, clearly commenting on the backlash her post has received. "That's not a beard this is a beard," she wrote. "So sorry to anyone with a beard this may offend. I am a comic and should never make fun of myself at the expense of anyone else that I wasn't making fun of in the first place. #relax #beard"
She also posted the snapshot on Twitter, captioning it, "How about everyone takes a deep breath."
What do you think? Was this just a big issue blown out of proportion?