Amy Schumer channeled her inner Queen Elsa this weekend
Do you want to build a snowman? Amy Schumer sure does.
Winter Storm Jonas hit the East Coast this weekend, and it was all anybody could talk about. Tian Tian the panda thoroughly enjoyed frolicking in the snow. This guy shoveled snow dressed like a T-rex. Even Saturday Night Live dropped some mentions about the weather during its live broadcast.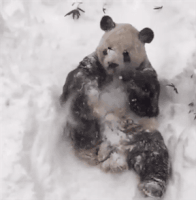 Though most of the weekend was spent indoors curled up with Netflix and hot chocolate, people did brave the weather and venture outside from time to time. When the streets are quiet and there's over two feet of snow to play in, the city becomes your playground! Your instincts tell you to get out there and build a snowman. And that's exactly what Amy Schumer did.
Amy's snowman is on the smaller side, but what he lacks in size, he makes up for in personality. The comedian outfitted him with an assortment of facial features and limbs made of (strategically-placed) twigs.
There doesn't appear to be too much snow on the ground in Amy's pic, so maybe she built her snowman early on in the storm. Maybe the second it started to snow, she got so excited that she just HAD to play right away. We don't blame her! Who knows the next time we'll get this much snow?
(Featured image via Universal / gif via Giphy)