Amy Schumer is literally the worst NBC tour guide ever in her new "SNL" promo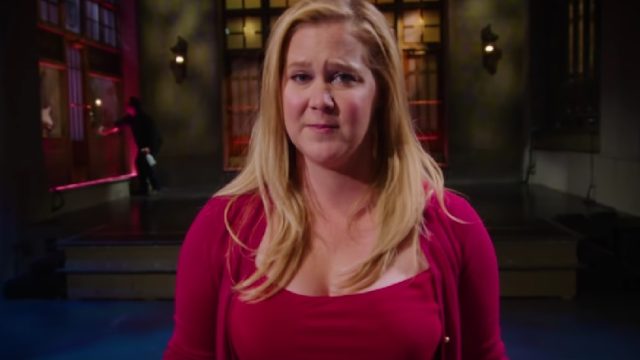 This weekend's going to be a good one — Amy Schumer is hosting Saturday Night Live on May 12th, and we've already set our lives to "Do Not Disturb." This is Schumer's second time hosting the show, so — as she points out in her promos — she knows the ropes.
In what may be one of the funniest SNL promos we've seen in months, Schumer takes the audience on a guided tour of the studio.  She shows us the page desk (which she claims is called that because of all the "pages" of paper). She also confirms that she's not only the first female guest the show has ever had, but she's the first woman ever to be allowed in the building. We told you she was the worst. (Fun fact — the first female host was actually Candice Bergen in 1975 on the show's fourth ep).
Schumer posted the promo to her Instagram, and we've already watched it on repeat.
https://www.instagram.com/p/BikKdxPjt3B
Hey — we love her confidence (despite her many, many egregious factual errors). And even though she probably terrified Kyle Mooney for a few brief minutes, her shenanigans are all worth it in the name of comedy.
SNL's May 12th episode will also feature singer-songwriter Kacey Musgraves as the musical guest. It'll be Musgraves' first time on the show…so let's hope she doesn't ask Amy Schumer for directions.