Who were Amy Schumer's bridesmaids? These Instagram photos seem to reveal the answer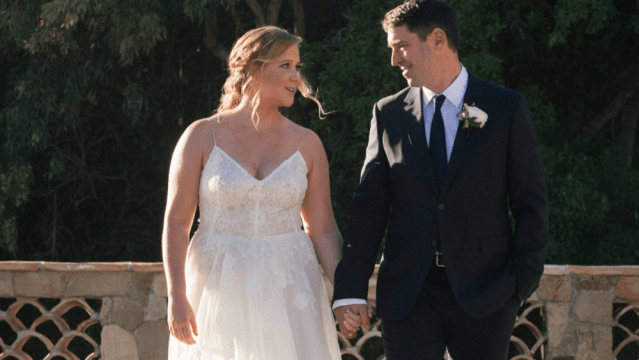 As anyone who's ever planned a wedding can tell you, there's a lot to think about. Especially if that wedding is thrown together quickly. And it's a destination event. And it's a big secret. And you're super famous and so are the majority of your friends. Okay, that last one might not be *quite* as relatable for most brides and grooms but it does give us even more reason to applaud Amy Schumer and — surprise! — her new husband, Chris Fischer, for pulling off quite the impressive feat.
Less than a week after they made their relationship Instagram-official, Amy Schumer and Chris Fischer got married in an intimate oceanside ceremony in Malibu. Of course, they weren't the only ones who played a role in the festivities. There was, appropriately, a fellow comedian for an officiant, about 80 guests (including some seriously big stars), and a beaming bridal party.
Judging by the photos Schumer posted of her big day on Instagram on Thursday, February 15th, her sister/bestie/business partner Kim Caramele was front and center for all the action. In one shot (click through, below), Kim and another woman are shown in *matching* flower crowns and dusty rose dresses, complete with delicate appliqué details and ribbon sashes. They're also holding two adorable black pups in the picture, one of which, we're guessing, is Schumer's dog, Tati.
It's unclear whether Kim and the other woman (or the dogs) were *officially* in the wedding party.
Though, given the matching, it seems very likely that the ladies were bridesmaids. And you can definitely see the other woman standing next to Fischer in photos of the ceremony. The dogs, decked in a tux and a veil, respectively, make an appearance as well. According to The Blast, comedian John Early served as the officiant while playing his character, Vicky.
https://www.instagram.com/p/BfOYmYPFShB
https://www.instagram.com/p/BfEShvSlckk
Amy Schumer also posted a shot with famous guest and pal Jennifer Lawrence.
Other big name attendees reportedly included Larry David, David Spade, Jennifer Aniston, and Jake Gyllenhaal. We're curious to know who else was there for the special event, but with the wedding being so seemingly sudden and hush hush, we don't yet know who all was able to make it. (We'll also use that to let the fact that we didn't score an invite slide.)
In addition to posting super cute photos, Schumer clarified on Instagram that, no, she's not pregnant, and that instead of gifts, she would appreciate fans donate to Everytown for Gun Safety. Yes, our hearts just grew a few sizes, too.