Amy Schumer got candid about the realities of IVF after her first round of treatment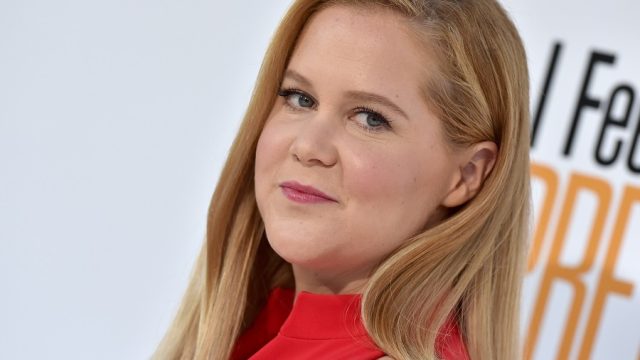 Update, February 17th, 12:45 p.m. ET: Amy Schumer has been open about her journey with IVF since week one, while also creating a dialogue with others who have been through the same process. Just more than a month ago, the actress and comedian shared that she was undergoing in-vitro fertilization and freezing her eggs in the hopes of giving her son, Gene, a sibling. In her most recent update, Schumer shared the results of her first egg retrieval to Instagram on Friday night. The results speak to both the joy and the difficulties of the IVF process.
"Hey! So ivf went like this for us. They retrieved 35 eggs from me. Not bad for the old gal right? Schumer wrote. "Then 26 fertilized! Whoah right? For all of those we got 1 normal embryo from that and 2 low level mosaic (mosaic means there are some abnormal cells but can still lead to a healthy baby) So we feel lucky we got 1! But what a drop off right?
Schumer explained how grateful she is for her son, Gene, and the resources she and her family have in order to try the IVF process. She also went on to thank the "hundreds of women" who have shared their IVF stories with her, from miscarriages and overall struggles to success stories after many rounds of the process. She says the stories have made her feel "empowered and supported." And she continued to encourage others to text her about their experiences if they want to.
"I just wanted to share and send love and strength to all of the warrior women who go through this process," Schumer posted. We appreciate Amy creating a dialogue and a community around IVF. If you'd like to join the conversation, you can text Schumer at +1 (917) 970-9333.
Original post, January 10th, 2020: Comedian Amy Schumer may have just recently begun her motherhood journey after welcoming baby Gene into the world in May 2019, but she's working toward giving Gene a sibling. Schumer shared that she has begun IVF treatment to make baby number two happen, and the entire process has made her feel "run down and emotional." Luckily, her friends and followers are happy to build her back up and share their own experiences with undergoing fertility treatment.
"I'm a week into IVF and feeling really run down and emotional," Schumer captioned her January 9th post. "If anyone went through it and if you have any advice or wouldn't mind sharing your experience with me please do."
She even gave her followers a cell phone number to share their experiences with her privately.
"We are freezing my eggs and figuring out what to do to give Gene a sibling," Schumer added.
One mum wrote, "First off, thanks for being so open about your journey...The IVF process is more so emotionally exhausting, just remember you are stronger than you know and keep faith that it will all work out!..Take it easy and have some Colace on hand after the retrieval."
Another commented, "Went through IVF. Best decision we ever made. Have a beautiful four year old and another on the way. Brings up a lot of pat twins though. Very important to get therapy support. Essential really. I don't regret any of the struggle. It was worth it all!!!"
"It helps that you realize it is the drugs making you emotional," one follower wrote. "We did IUI nine times and IVF once and had twins. During that time, I felt like everything was falling apart and that I was crazy. I didn't give the medicine the credit it deserved and blamed myself and everyone around me."
Others agreed that emotions were (or still are) extremely high during the IVF process, and reminded Schumer that she is definitely not alone.
That's more than evident in the comments section of Schumer's post. Even if followers couldn't share their own personal experiences, many gave Schumer words of wisdom and encouragement.
Selena Gomez wrote, "I'm praying for you and chris. I'm sorry!" Katie Couric said, "You got this mama. Sending you lots of love !"
Fellow comedian Colleen Ballinger, who also recently became a first-time mom, commented, "you are amazing. can't even imagine what you're going through. sending you all the love and support in the world." Model Tess Holliday wrote, "I appreciate you as a mother, a woman, a public figure, your vulnerability is so powerful."
We hope the resounding "it was all worth it" from the moms in the comments helps Schumer stay strong through this IVF journey. We can only imagine how difficult the process can be, and we're so encouraged by everyone sharing their stories in motherhood struggles solidarity.