Amy Schumer Hilariously Chimes In on Hilaria Baldwin's Spanish Accent Drama
Schumer has since deleted her Instagram poking fun at Baldwin.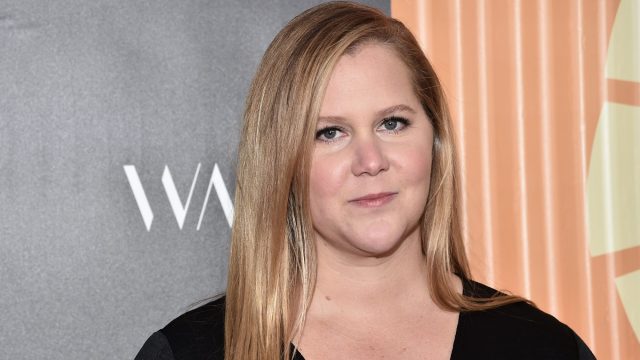 If you took a social media break over the holiday weekend, you will probably be utterly confused by the latest celebrity feud-ish/backlash that has occurred. Some teasers: The kinda-feud involves Amy Schumer and Hilaria Baldwin, and the backlash involves some sleuth-y Twitter folks (and, later, Schumer herself) accusing Baldwin of faking her Spanish accent. Welcome back!
Here's the latest: On December 27th, Schumer posted an Instagram photo with the caption, "I get it. I went to Spain a couple times and loved it too." Schumer has since deleted the post, but account Comments by Celebs captured it in a screenshot.
Schumer also added cucumber emoji, which likely refers to a video in which Baldwin—who claims that she was born in Boston, spent her childhood between Spain and America, and moved to America permanently at age 19 to attend NYU—forgets the English word for cucumber. 
Twitter user @lenibriscoe unearthed that video, claiming in a December 21st tweet that this was Baldwin's "Fake Spanish accent debut – this woman grew up in Massachusetts." 
Earlier, the same Twitter user launched the theory that Baldwin was faking her accent in a tweet that read: "You have to admire Hilaria Baldwin's commitment to her decade long grift where she impersonates a Spanish person."
The Twitter thread also alleges that Baldwin was born Hilary Hayward-Thomas in Boston, to American parents, whose (American) ancestors stretch back to the American Revolution. Now, it seems that Baldwin's parents do, indeed, live in Mallorca, Spain, where they moved in 2011. But according to a review on Baldwin's podcast, which @lenibriscoe screenshotted, Baldwin went to high school in Cambridge, Massachusetts, and "didn't have an accent then." 
Obviously, the allegations caught on like wildfire across social media. (Podcaster Tracie Morrissey made a handy Instagram highlight covering the controversy, if you, like us, are becoming obsessed with it.)    
Baldwin responded to these allegations in an Instagram video yesterday, December 27th. In the caption, she wrote, "I'll reiterate my story, as I've done many times before. I was born in Boston and grew up spending time with my family between Massachusetts and Spain. My parents and sibling live in Spain and I chose to live here, in the USA."
She continued, "We celebrate both cultures in our home—Alec and I are raising our children bilingual, just as I was raised. This is very important to me. I understand that my story is a little different, but it is mine, and I'm very proud of it."
Is she sincere? Is she enacting one of this decade's greatest celebrity hoaxes? Only Baldwin herself knows the truth.