Amy Schumer is in the hospital with an extremely unpleasant pregnancy condition, and we hope she's okay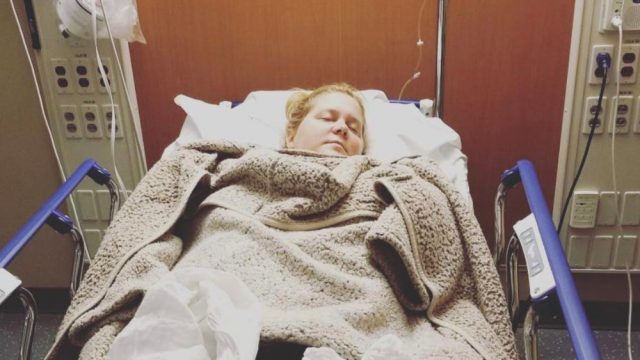 On October 22nd, Amy Schumer announced that she's pregnant with her first child, and since then, the comedian and mom-to-be has shared candid snapshots of what to expect when you're expecting. She's kept her fans updated with photos of her baby bump, sonogram videos, and even jokes about "competing" with Meghan Markle. Now, Schumer just shared that she's in the hospital with hyperemesis gravidarum—the condition that also affected Kate Middleton during all three of her pregnancies.
Today, November 15th, the I Feel Pretty actress shared an Instagram photo of herself in a hospital bed. In her post, she apologized to fans in Texas, writing that she had to cancel her appearances and would reschedule. She went on to explain that she has hyperemesis, noting that, thankfully, both she and the baby are okay.
"I am in the hospital," she wrote. "I'm fine. Baby's fine but everyone who says the 2nd trimester is better is not telling the full story. I've been even more ill this trimester. I have hyperemesis and it blows. Very lucky to be pregnant but this is some bullsh*t!"
https://www.instagram.com/p/BqNjmDdFUQj
She went on to thank the medical staff caring for her, and to promise her fans that she would return to Texas. "Sending so much love to the doctors and nurses taking great care of me and Tati!" she wrote. "They are cool as hell! And Texas I am really really sorry and I'll be out there as soon as I'm better."
The Houston Chronicle notes that Schumer was scheduled to perform tonight, November 15th, at Winspear Opera House in Dallas. According to the American Pregnancy Association, hyperemesis gravidarum is a condition that causes extreme nausea and vomiting. Symptoms are generally the worst between nine and 13 weeks, but up to 20% of women affected experience symptoms throughout their entire pregnancy. Some women can treat the condition at home, but others, like Schumer, are hospitalized for treatments like IV fluids and tube feeding. Basically, hyperemesis gravidarum is no joke.
Although becoming a parent is cause for celebration, it's important to acknowledge that many people have rough pregnancies, and that moms are literally superheroes. We hope Amy feels better ASAP.