Amy Schumer just broke this record and we couldn't be more proud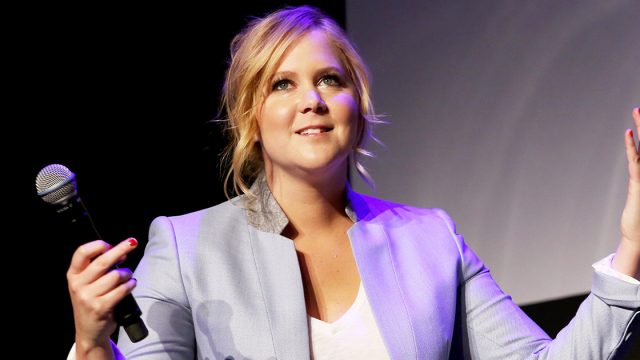 Amy Schumer is one seriously talented lady. A writer, actor and a stand up comedian, Schumer is setting Hollywood alight with her irreverent humor and candid honesty.
The star is currently busy touring in support of her new book, The Girl with the Lower Back Tattoo, which is out now, and has been spending time doing creepy AF stuff with her sister, too.
https://www.instagram.com/p/BKnua48heUt
The outspoken star, who has previously made comments about gun control and has come out in support of Hilary Clinton, has seen a her career escalate at a meteoritic pace, and we couldn't be happier for her.
Now Amy Schumer has just broken another massive record and helped put another crack in that irritating glass ceiling.
As Forbes reports, Schumer has become the first ever woman to make the highest-paid comedian list. Helped by the release of her hilarious film Trainwreck and her new book, last year the star took home $17 millions, landing her at number four on the list.
Ahead of Schumer were Kevin Hart, who headed up the list and took home a massive $87.5 million, along with Jerry Seinfeld and Terry Fator.
https://www.instagram.com/p/BKykxT8Byxm
Speaking to NPR last month, Schumer explained that she didn't think anything there'd be any change in comedy any time soon.
"I feel like there won't be enough change…until there's no wage gap, and until someone says 'You're my favorite comic,' not 'You're my favorite female comic,'" she said.
We can't quite believe that there has NEVER been a woman crack the highest-paid comedian list. Yet, as Forbes notes, women only made up 28.9% of all writers across broadcast, cable, and streaming services. Therefore, it's no wonder that women aren't making the list – they're just not being given the same opportunities.
Speaking to GQ as part of a recent cover interview, Schumer went on to explain that all she wants is to be taken seriously as a comic.
"I've opened for male comics for years and see the difference in the treatment. It's the expectation of how a woman is going to be, or should be: Be sweet and likable and apologize for stealing oxygen from the world," she said. "All I've ever wanted is to be treated like a comedian who's performing at your venue, who sold it out. Just talk to me how you would talk to Bill Burr, who was here the week before me. Like Patton Oswalt, who'll be here next week."
Obviously, there's a lot to do in the entertainment industry, but especially in comedy, before women get treated as equally as men. However, we're glad that people like Amy Schumer are slowly and surely help break down the barriers.
So, congratulations Amy on your historic new title!