Amy Schumer on the cover of "Vanity Fair" is GOALS
Amy Schumer is on the May cover of Vanity Fair, and we're kind of obsessed with it. Not only is the cover absolutely stunning, but her interview is incredibly poignant and hilarious and peak Amy Schumer.
In the cover photo — which was shot by iconic photographer Annie Leibovitz — Schumer is posed pin-up style against a red backdrop, and decked out in a red Calvin Klein Collection corset-style bodysuit. Her blonde hair is styled into retro-glam Hollywood waves and her makeup is very soft, directing all attention to the blue of her eyes. It's very Marilyn Monroe and we LOVE it.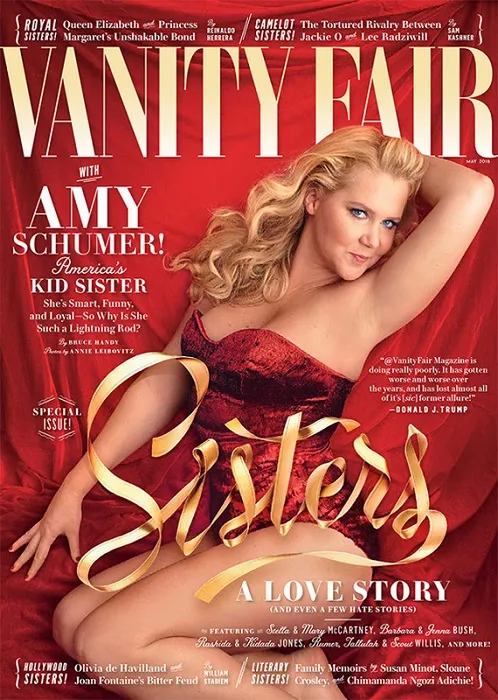 "For those women in Old Hollywood who posed in that bombshell, pinup way, there's almost a series of poses and body positioning that signify that era," said Jessica Diehl, Vanity Fair's fashion and style director. "There had to be some sense of humor in the glamorizing, because [the glamorizing] is not the point of her. We're not telling a fashion story—we don't have to stick to one look throughout," she continued.
Inside the magazine, the theme of which is "sisters," Schumer talks about her friendship with Jennifer Lawrence (more #goals), her mission to end gun violence, and her favorite person — her sister. There are several other lifestyle shots of Schumer in the actual story in the magazine, all that feature her in a variety of poses — including one where Schumer's underwear are actually on fire.
"I begged Annie to photograph me with no underwear on in just a T-shirt. I explained to her how important it was to me and she finally agreed. I felt powerful and beautiful. She understood once we shot it. Or maybe she ran to the bathroom to throw up. It was one of the most meaningful moments of my life," Schumer told Vanity Fair.
Schumer takes some time to address the Lafayette shooting which occurred during a Trainwreck screening last July, a tragedy that left Schumer absolutely devastated.
"So my publicist told me. And then I put on the news. I was by myself in a hotel, and I was just like, I wish I never wrote that movie," Schumer stated.
After noticing all the missed calls the comedian had received, she told VF, "I was laughing before I called her back, because I thought it was going to be like a sex tape [had surfaced] or something."
"And then she told me there had been this shooting. It really … I don't know. It's like when the Dark Knight shooting happened, and in Paris. The idea of people trying to go out and have a good time – you know, looking forward to it? – I don't know why that makes me the saddest." Schumer continued.
While the shooting left Schumer heartbroken, it spurred her to speak up about gun control, and she began working with cousin Senator Chuck Schumer to reform gun laws. One thing (and there are many things) we love about Amy, is that she's so talented and so funny and so all about flipping those gender stereotypes in a hilarious, digestible way —but she's also an activist who is using her public platform for good.
"She's so multifaceted that if you put her in one box, you're really not telling enough of this whole person's story," Diehl said of the choice. "Her voice is very zeitgeisty, and ballsy, and feisty, that it didn't seem she could be boxed into one concept." We are totally down for ballsy women, and we love that Vanity Fair was able to depict that so well.