Amy Schumer just made her relationship with Chris Fischer Instagram official, and they packed on the PDA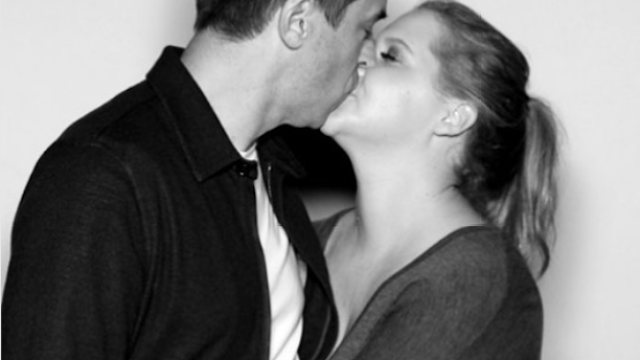 Amy Schumer has been in the news again a lot lately. The trailer for her new movie I Feel Pretty dropped on Thursday, February 8th, but that's not what we're talking about right now. Instead, we have eyes on the picture that Amy Schumer just posted on Instagram of her at Ellen DeGeneres' 60th birthday party. Kissing a very hunky man.
Celebrities have been sharing their snapshots from DeGeneres' party all weekend long. But none made us tap "Like" faster than Amy Schumer's. The adorable black-and-white photo shows Schumer smooching her dude. And it basically confirms her rumored relationship with Chris Fischer. Rumors began swirling in late 2017 after Schumer and Fischer were seen together having a meal, which did not imply that they are an ~item,~ but it definitely got people talking.
So, who is Amy Schumer's mystery man? Chris Fischer is a chef who may best be known for writing the book Beetlebung Farm Cookbook. Though Schumer's Instagram picture doesn't say much, the kiss says it all. We think these two are adorable.
https://www.instagram.com/p/BfEShvSlckk
A quick scroll through the comments proves that basically everyone else in the world is also waiting for Amy Schumer to confirm the relationship. But this photo pretty much speaks for itself. Of course, Schumer doesn't have to tell us anything until she's ready. We are happy as long as she's happy, and it looks like she had all the fun at Ellen's birthday.
So much fun, in fact, that she didn't even have time to hang out with Chrissy Teigen.

But based on Amy Schumer's picture, things are looking good between her and Fischer.
If you're content enough with your current company to not hang out with the one and only Chrissy Teigen, you've got a good thing going.