Amy Schumer's boyfriend's mom says she doesn't know who Amy Schumer is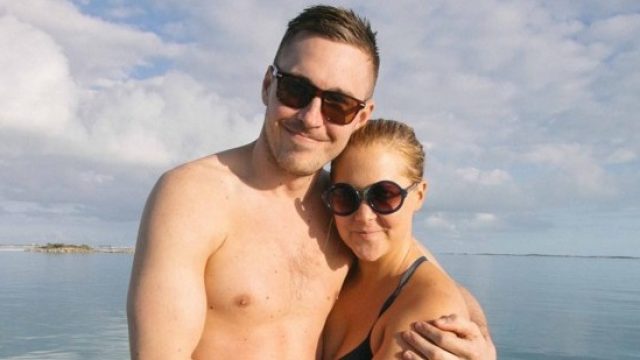 Our favorite funny lady Amy Schumer stopped by The Tonight Show last night to promote the new season of Inside Amy Schumer, and it didn't take long until Jimmy Fallon brought up her boyfriend Ben Hanisch. The host commented that the two met backstage, and that Ben was very nice.
"We're great. We're really good. We met and totally fell in love," Amy said of her beau. She also mentioned that she's met Ben's entire family. Award show PDA, vacations, adorable selfies and now meeting the family—things are getting really serious between them!
"I met his whole family. They're great," the actress said of the Hanisch Family. "I told them, 'Look, journalists are going to call you, because it's what they do. And they're going to come to the house.' And they did."
This is the first time Ben has dated a celebrity, so there are certain things — like a total lack of privacy — that he's had to get used to. Unfortunately, the same goes for his family. So Amy gave Ben's mom Deb some pointers on how to deal if she gets questioned for information. But it sounds like Deb took the pointers a little too seriously.
"I told her, 'Deb, they're going to call you. Just say no comment. And she's like, 'Oh, I got it, Amy. Don't you worry. No comment. Not a problem,'" Amy told Jimmy. But of course, there's more to the story. "Not even 10 minutes later I get a Google alert from TIME magazine that Deb was like, 'I've never heard of her before in my life!' Too far, Deb! Too far. You took it too far, Deb. She's so sweet."
That Deb sounds like she has a keen sense of humor. We bet she gives Amy a run for her money at family gatherings!
Watch Amy's full Tonight Show interview for more LOLs: