Amy Schumer and her BF share the photos of adorable vacation—including a "Bachelor"-themed date!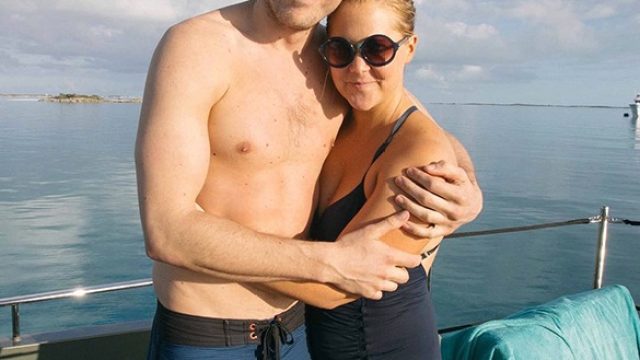 Amy Schumer is in love, and we're in love with her love. We're also in love with the vacation she's on, because wait 'til you see the pics.
Schumer, along with boyfriend Ben Hanisch, pals Jerry and Jessica Seinfeld, and close friend comedian Bridget Everett have been vacationing in what looks like complete paradise. And they've been sharing photos on Instagram to prove it.
The location of this picture-perfect vacation is unknown (technically, they know where they are, so no need for concern), but was is known is that the group is having the best time. The pictures make that very clear.
Schumer posted this obligatory jumping shot of the entire group:
Hanisch posted this perfect photo (seriously, it's stunning):  
The group really started upping the ante on vacation antics and going on a date taken right out of The Bachelor. Let's hope the swimming with pigs didn't similarly end with false accusations and Amy feeling like she might have ruined everything.
And Amy Schumer finished off the trip photos by posting this sweet shot, captioning it "Human centipedes." We're a little concerned by what that might mean, but the pic is sure adorable!
We hope they had the best time ever (it'd probably be hard not to amidst all those hilarious people. And pigs.) We'd love to know where they went, because we want to go to there.