Amy Schumer and Ben Hanisch have officially broken up, and we hope they're both okay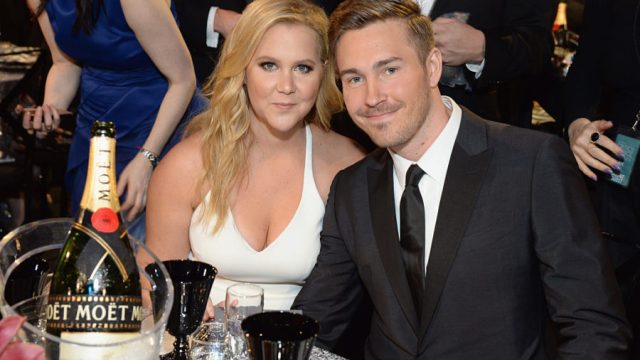 Today in sad relationship news, Snatched star Amy Schumer and boyfriend Ben Hanisch have broken up. A rep for Schumer said in a statement, "Amy and Ben have ended their relationship after thoughtful consideration and remain friends."
The former couple hadn't been seen together since January, as Schumer began her promotional tour for Snatched. Schumer and the Chicago-based furniture designer, who had been together for a year and a half, had also been appearing on each other's social media less frequently in recent months.
The last photo Schumer posted of the couple in March was a silly throwback to the Golden Globe awards in January.
https://www.instagram.com/p/BRi_koOBpRS
Schumer and Hanisch, who met on a dating app in late 2015, began dating in November of that year before going public with their romance in January of 2016.
"Things were just really easy with him, Schumer said, last summer of her budding relationship with Hanisch. "There were no games, no waiting three days. It was clear and easy. He was so sweet. He didn't know who I was. He'd heard my name.
https://www.instagram.com/p/BOVYuSfg-Py
In August, Schumer told Marie Claire that Hanish was the first guy she really considered to be her boyfriend. She also opened up about her dating insecurities, telling the mag that dating and being in love gives her a lot of anxiety.
"Being in love is the scariest thing in the world. You want to f-ing cry and scream. I can't handle it," Schumer said. "Every time we say good-bye, I think, This will have been a nice last week together. Or I tell myself nothing is real and he's going to leave me and tell me he never loved me. I feel so bad for him. How exhausting it must be dating me."
We know breakups are tough, and we're sending all our love to them both.