Amy Schumer addressed the I Feel Pretty backlash, and we're listening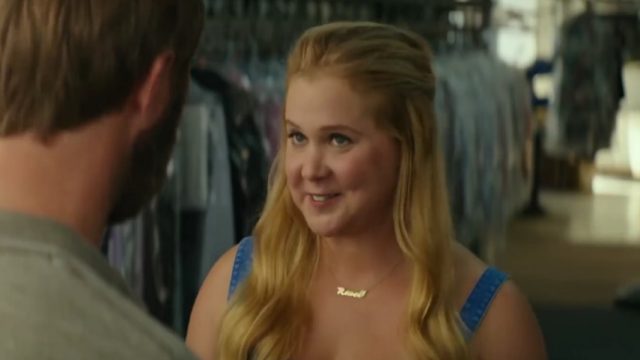 We were so excited when we heard about Amy Schumer's new movie I Feel Pretty, but the film's first trailer met a good deal of backlash from viewers who found the central message potentially problematic…and we were also worried, too. However, Schumer addressed the backlash on The Late Show with Stephen Colbert, and she's made quite the case for her film.
In case you missed it, I Feel Pretty focuses on a woman named Renee (played by Schumer), who has a ton to offer, but struggles with self-worth. After hitting her head during a spin class, Renee suddenly begins to see herself as a supermodel, and soon begins to approach her life with total confidence. However, many took issue with the fact that a) Schumer (a gorgeous, intelligent woman) is playing the role of someone who feels "undateable," and b) the movie seems to imply that confidence should come from our outer appearance.
However, on the April 9th episode of The Late Show, the comedian clarified that the movie actually reiterates the opposite. "It's not about an 'ugly monster'…she just has low self-esteem," Schumer explained, and the character eventually learns that everything she wanted in life was already in reach — she just needed the confidence to go for it.
Schumer's co-star, Aidy Bryant, was also quick to address the backlash after the trailer was released.
"I'm very proud to be in a movie that tells the story of someone who believes confidence is directly tied to looks but learns that confidence comes from within," she said in Schumer's Insta comments. "It's a movie I wish I could have seen when I was 14."
https://www.youtube.com/watch?v=BF5kS2UotsU?feature=oembed
I Feel Pretty hits theaters on April 20th, and we can't wait to see it — even if only to form an opinion for ourselves.
https://www.youtube.com/watch?v=cVx9EFK3DWE?feature=oembed
Let us know your thoughts.