Amy Poehler gave some unexpected and savage responses in a recent Q&A, proving she's always a boss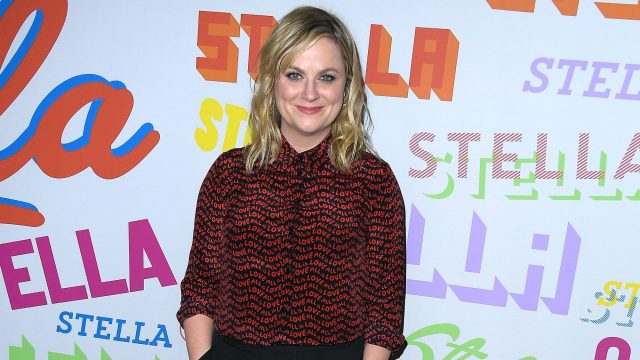 Amy Poehler is not here for your cutesy Q&A when there's so much atrocity currently happening in the world. The actress and comedian was recently named to The Hollywood Reporter's list of the 40 Most Power People in Comedy and instead of answering the outlet's questionnaire with witty quips or vignettes about her career in comedy, the Parks and Recreation star took the opportunity to get real.
In the survey, where Poehler was asked about her guilty pleasures, experiences with hecklers, and other questions fit for a comedian, our forever Leslie Knope instead highlighted a number of issues currently plaguing the United States — including gun violence in schools and government's lack of assistance in Puerto Rico following Hurricane Maria.
In response to THR's question on her guilty pleasure, Poehler fired back with, "Let's not forget over 4,600 people have died in Puerto Rico." Her response refers to a report released in May that estimates that Hurricane Maria, which struck the island last fall, killed more than 4,600 people, a number that far exceeds the government's official death toll of just 64.
When asked about performing for college audiences, Poehler took the time to lament on the devastating effects school shootings have on students. She said, "Kids that are afraid they will be shot in their own schools. What has happened to us?" 
Also pointing out harmful nature of human pollution — citing a giant whale in Thailand that died after ingesting more 80 plastic bags — Poehler revealed that she wished Mr. Rogers could be rebooted, saying, "I miss him. We need him." Ugh, same.
Twitter cannot get over how real and raw Amy is. We stan a legend:
https://twitter.com/udfredirect/status/1007362279577440261
We love that she didn't even try to hide her distaste when asked about the funniest part of the Trump administration. Just another example of Poehler bringing Leslie Knope to life.
Sure, cute surveys can be fun to read, but there are so many sad and scary things happening every day that aren't getting enough coverage. We're so glad that Poehler took the time to call attention to some of the most important and critical issues we really need to be addressing.