"Insecure" producer Amy Aniobi talks to us about the show, preservation of the black female experience, and her love for '90s sitcoms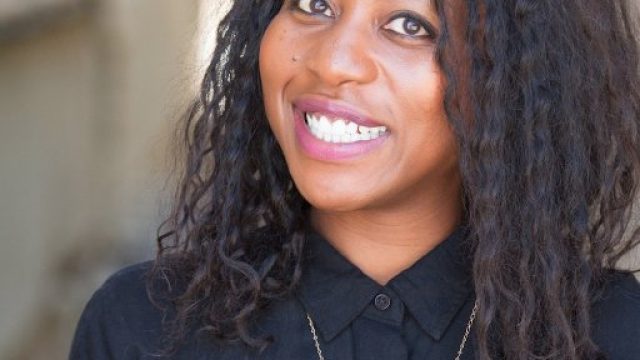 At about 8 a.m. on a Wednesday morning, Amy Aniobi warmly answers my call for a phone interview prior to a hectic day of meetings and set production. On the other end of the line, the writer and producer engages in a sacred morning ritual that every boss lady knows to be devoutly true: applying makeup before tackling the start of her 9 a.m. work day.
Currently in mid-production of the second season of HBO's tumultuously hilarious Insecure (and remaining fairly mum on details of its July 23rd return), Aniobi's credits are quite extensive. She's written for a little-known show called Silicon Valley on HBO (perhaps you've heard of it), collaborated with Amy Poehler's Smart Girls in a segment called "Modern Manners," and is now in the early stages of creating a show for Amazon titled Homecoming Queen alongside comedian Phoebe Robinson and Transparent's Jill Soloway.
Our conversation spanned all things Season 2 of Insecure, her adoration for YouTube's fostering of independent work, and our mutual affection for Boy Meets World's angsty rebel Shawn Hunter. Read on for more insights from our talk.
HelloGiggles: Insecure has been praised for its authentic exploration of the black experience, and my favorite storyline within that is successful lawyer Molly and her dynamic with the new intern, where she suggests dialing down her blackness. That concept of dialing down one's colorness in a white America is such a genuine thing that needs exploring. What's the significance of highlighting this? Is this something you've ever encountered as a woman of color?
Amy Aniobi: Yeah, definitely. Well, our [production] room is predominantly composed of people of color, and then we also have, in this season, four gay writers. So, that comes up for all of us — that idea of code switching, which is bending or flexing toward the group you're with. I feel like so many minority groups do that — whether you're gay, where you're dialing back the preconceived notions of what "gay" is, or you're black, and you dial that back because you're in a predominantly white world. Any marginalized member of a white community experiences it some way.
It felt really universal for us to explore, but it also felt specific for upwardly mobile black females to have to encounter this when they're trying to get ahead. Molly is a character who grew up south of Crenshaw — she is hood but she is also high achieving, went to great schools, [and] has polished her exterior to be a part of this world, but she feels comfortable in both spaces. So, when she sees someone who's so abashedly representing where she comes from, in a sense, she wants to protect this person. But of course, policing somebody else's way of behavior is never going to be a comfortable thing. We've all been in that circumstance. I feel like, as women, we've been in that circumstance. It happens in its own minuscule way in so many different types of scenarios so it's universal, but it's also specific to the upwardly mobile black experience.
HG: While the show explores a lot of the romantic relationship woes individually experienced by Issa and Molly, the core relationship of the series is ultimately Issa and Molly's best friendship. Both women are flawed, wonderful, and complex as they navigate work, life, and broken pussies. What sets them apart from other TV female BFFs?
AA: One thing that we really strove to do with Issa and Molly is to make sure that they were never frenemies. There are so many shows featuring women who bicker and fight and judge each other; real friends will bicker and fight and judge each other, but there's always that underlying love. We had the fight in episode 1×07 where they really called each other out on their bullshit, but that is a real friendship fight. It's not light and passive aggressive. We knew they could never be in a place where they're shaken. For instance, we thought about [whether] Molly would be someone who'd steal Lawrence from Issa. And it's like no, that's not the story we're writing. These girls are true friends.
It's something that we really want to preserve — this idea that black women are worthy of love, worthy of true friendship, can achieve it together, and don't have to be fighting [and creating] conflict to be real.
HG: I love that the show authentically spotlights South L.A. What other show would feature their protagonist awkwardly shopping for fresh underwear at the local Rite Aid? What's it like filming on location?
AA: South L.A. was always going to be the heart of this show. Issa [Rae] is from South L.A., [and] so is our showrunner Prentice [Penny], so it was so essential for us to show it being normal and beautiful. Every urban area has violence or crime or dirt or litter, but it's not always that. It's also a place where families are raised [and] people grow up, where people feel safe and loved. Shooting on location is exciting. When we [shot] in Inglewood, the first season was interesting because nobody knew what the show was yet. In Inglewood people are like, 'we're living our lives'; they're not used to film crews. It's not like Hollywood where it's like, 'oh there's another film set.'
But this season, now that we've been out there, people know the show. So people are like, "oh what are you shooting?" and [we're] like Insecure — people would be like, "I love that show! Can I walk through?" It's just so exciting that the community has embraced the show. [Its] had its challenges, but the excitement is knowing that what you see on the screen is what is happening in Inglewood now. It's very real. You get to see a part of L.A. that isn't usually seen, and it's shown in a beautiful way.
HG: You're currently in production for Season 2. What can you tell us about the July 23rd return?
AA: All I can really say… is that there's a beginning, a middle, and an end. (laughs) No. We're just delving deeper into what this relationship is between Molly and Issa [and] picking up after what happened in Season 1. With everything that happened with Issa and Lawrence, we're picking up a couple months later and seeing where everybody is now. We want to make sure to preserve Issa and Molly's come-to-Jesus [moment] in episode 8, where they had the fight in [episode 7] and reunited. So where is their friendship now? If you watched until the very last second of episode 8, you know what Lawrence did. So where is he in his relationship with Issa now? It's just all of the picking up of the pieces after a cataclysmic breakup and after a reuniting fight with your best friend.
HG: Your most recent project, "
Between Busts," is a YouTube series with the tagline "very modern thoughts from some very dead women." I'm  already obsessed. What inspired this project?
https://www.youtube.com/watch?v=nlqRn2gVpCk?feature=oembed
AA: The women who voice the character — one of them is a really good friend of mine, Caley Rose, and she came to me saying, "I know you're really busy with Insecure, but I have this animated project and I'm looking for a writer. Could you recommend anyone? We just want to do conversations of women from history talking about, like, SoulCycle and Starbucks and casting problems in Hollywood and menopause." And I'm like, this is so cool. I would write it. I had been curious about animation for a while. Also, I got my start on the web. I wrote for "Awkward Black Girl" for Issa. I created a couple of web series of my own, one called "the Slutty Years," another one called "Lisa and Amy are Black," so I've always had such a love and respect for the web where you get to do your own thing, on your own timeline — make it entirely yours. I never want to lose that connection to independent work.
It's been exciting to see it come up during a time where women are so under attack in this country. It's exciting to be like, look at these badass women who've come together to create something funny, but also say something.
HG: I read your
interview with Autostraddle where you said Boy Meets World influenced your decision to start writing because you didn't understand that it was scripted. You thought cameras followed this Cory Matthews kid around and filmed his life as he said funny things. I read this and thought, "I love this woman. We are one," because I too credit '90s sitcoms for my upbringing.
AA: Yeah! You know, my family's Nigerian [and] my parents immigrated here in 1980. I grew up watching American sitcoms. I did not know anything about the entertainment industry or Hollywood. I didn't understand that people wrote shows and they were filmed before a live studio audience. In my mind, I was like, 'Well, if a TV show is following some kid around high school, I could do that' and my friend was like, 'Oh no, they have writers.' But I learned what screenwriting was when I went to college. I took my first screenwriting class and I was like, 'I love this.' I've always been a writer — I've always been attracted to the written word — but it made me feel like I found the type of writing I was supposed to be doing. I didn't know it could be a career until basically I was in college, and once I did I was like, 'This might be what I'm supposed to be doing' [and] not going to law school, which is what I lied and told my parents that I wanted to do.
What are some shows that you're into at the moment?
AA: My favorite show right now is Catastrophe on Amazon. I need to start Season 3 that just premiered. I think it so authentically captures what [it's like] to be in a relationship as an older adult. I mean, I think it does. I'm not that age but it just feels very real. I'm also obsessed with Master of None. Lena Waithe is one of my friends, and I just love the Thanksgiving episode that was also directed by Melina Matsoukas, who's the producing director on Insecure.
I [also] really liked watching [Netflix's] Dear White People — just seeing from the beginning how it was an indie film and now it's changed to become a series. It's very artistic. It's one of the most beautiful shows on television right now. I'm about to check out [Amazon's]  I Love Dick too. I think that's it right now. [And] John Oliver. I like to stay informed.
This interview has been edited and condensed for clarity.
The second season of Insecure returns to HBO on July 23rd.