Amy Adams is going to be in a movie called "True American," which is rudely not about the "New Girl" drinking game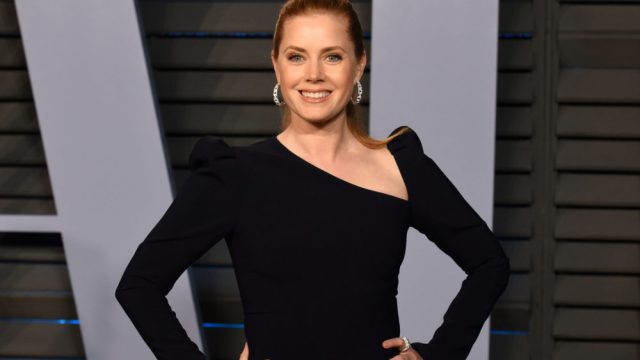 Listen, there is only one True American out there, and it's the iconic and wild drinking game in New Girl. Any other True American isn't actually true, and that's that. But, ya know, that doesn't mean that there won't be imposters along the way. OK, OK, so maybe that's a bit dramatic but still, the fact that Amy Adams is going to be in a movie called True American, but it isn't about the New Girl drinking game, is kind of rude. But ya know, we can still dream that the Loft's game one day makes it to the big screen…one day. 
Adams is in talks to star in the Annapurna Picture's film, The True American. And OK, to be fair, it actually sounds pretty good (for not being a drinking game turned movie, that is). According to Variety, the movie is based on the book of the same name, by Anand Giridharadas, and it isn't fiction. The book follows Rais Bhuiyan shortly after the 9/11 terrorist attacks as he navigates life as a Muslim immigrant in Texas. Deadline has also reported that Mark Ruffalo is in talks to star in the movie as well, and Collider adds that Kumail Nanjiani is also in talks.
The movie is still in the early stages, it seems, as Amazon Studios are also poised to be involved in financing and distribution, per Variety.
The film is certainly a far leap from the New Girl drinking game, as it focuses on real issues and, though it may be set over ten years ago, the issues it highlights are still relevant today, unfortunately. According to Amazon's plot synopsis of the book, "The True American tells the story of Raisuddin Bhuiyan, a Bangladesh Air Force officer who dreams of immigrating to America and working in technology. But days after 9/11, an avowed 'American terrorist' named Mark Stroman, seeking revenge, walks into the Dallas minimart where Bhuiyan has found temporary work and shoots him, maiming and nearly killing him. Two other victims, at other gas stations, aren't so lucky, dying at once."
It's unclear who Adams would play in the film adaptation, but with a stellar plot, and a fantastic cast, it is clear that the movie is definitely on track to be a hit, even if it isn't exactly a rambunctious drinking game.