Reese Witherspoon, Beanie Feldstein, and other huge stars join Amy Adams and Jennifer Garner in reading books to children in quarantine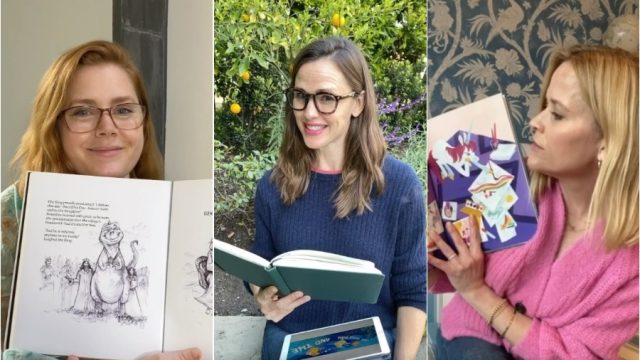 Update, March 20th, 2020 1:35 p.m. ET: This story has been updated as more celebrities have taken part in the Save with Stories reading project.
Great news: Thanks to an initiative launched in the wake of school closures due to coronavirus (COVID-19), you can donate as much money as you're able to help the millions of children who rely on school not only for education, books, and computers, but for their meals as well. Other good news: Amy Adams launched the initiative along with her friend Jennifer Garner, and she joined Instagram to do it. Silver linings, people!
On March 16th, both Adams and Garner posted IGTV videos about their venture, Save with Stories, which they founded in collaboration with Save the Children, No Kid Hungry, and Scholastic.
"I've decided to finally join to shine a spotlight on kids across the country who need our help and support during this difficult time," Adams wrote in her caption. "My friend @jennifer.garner and I are launching @SAVEWITHSTORIES—a spot to watch your favorite celebrities read your favorite children's books."
https://www.instagram.com/p/B9zSVZFH2Sf
Along with providing entertainment to children (and their parents) stuck at home, the Instagram and Facebook-based platform will gather donations to "keep feeding vulnerable children during the pandemic, as well as provide books, games, and other educational materials, along with after-school and summer programs," according to the fund's official website.
https://www.instagram.com/p/B9zUSgJpwci
In her first-ever Instagram post, Adams also provided the celebrity reading series' first-ever installment.
Adams chose to read The Dinosaur Princess, a story written by her 9-year-old daughter, Aviana Olea, and illustrated by her husband Darren Le Gallo. Scholastic will be providing titles by published authors in the future, but we fully support Adams' unorthodox choice. Support your local artists! Even if they're your own 9-year-old children!
Garner gave us so many incredible voices and sound effects for her picture book story. (We know these are for children, but we grownups are loving it, too.)
https://www.instagram.com/p/B9zTPUlnWBj
Already, so many other celebrities have joined Adams and Garner to virtually read to children in quarantine and promote the cause.
We're immediately soothed by Reese Witherspoon reading in her Mom voice.
https://www.instagram.com/p/B91xPRTHFr5
Demi Lovato is reading a childhood favorite, The Gruffalo.
https://www.instagram.com/p/B99jgFeHRuB
Lupita N'yongo, Beanie Feldstein, and even Noah Centineo joined in to support Garner and Adams's cause.
https://www.instagram.com/p/B99pUYcn118
https://www.instagram.com/p/B9736ehHwzF
https://www.instagram.com/p/B97EsWDHJJE
See everyone who has already read picture books and stay tuned for even more on the Save with Stories Instagram page. And if you want to support Save with Stories, you can do so by texting SAVE to 20222 to make a one-time gift of $10. Or visit its website and donate any amount you can.
As information about the coronavirus pandemic rapidly changes, HelloGiggles is committed to providing accurate and helpful coverage to our readers. As such, some of the information in this story may have changed after publication. For the latest on COVID-19, we encourage you to use online resources from CDC, WHO, and local public health departments, and visit our coronavirus hub.