Amy Adams CRUSHES this "eyebrow theater" game with Stephen Colbert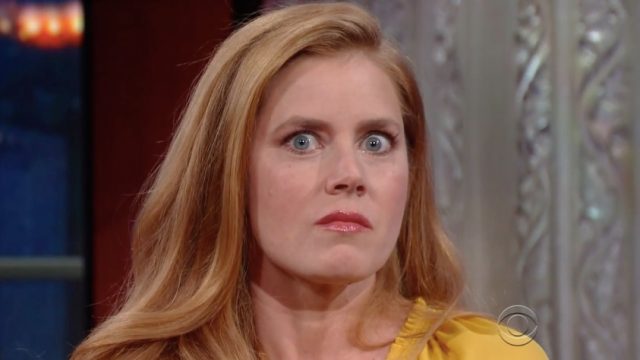 Even though though Amy Adams has been nominated for multiple Oscar, she still knows how to get totally silly during talk show appearances. Now get ready, because eyebrow theater is more challenging than you might think.
That's right, Entertainment Weekly just let us know that Adams played "eyebrow theater" with Stephen Colbert, in which contestants must act out an internal monologue using only facial expressions — no words allowed.
Colbert said that he noticed how expressive Adams face was while watching a clip of her new movie Nocturnal Animals (which you can watch the trailer for here, btws). So he knew she was up for the challenge. Take a look!
https://www.youtube.com/watch?v=acirLVpzj_Y?feature=oembed
It's fair to say that Adams brought her A-game! Colbert got to have a go as well…but come on…she's Amy Adams. Kudos to Colbert for trying though!
"The next person who tells me 'flammable' and 'inflammable' mean the same thing, is going to find out if they are."
What a sense of humor this girl has. And hey, who knew eyebrows could be so expressive?