American Idol's first drag queen has joined the Top 10, and this is ICONIC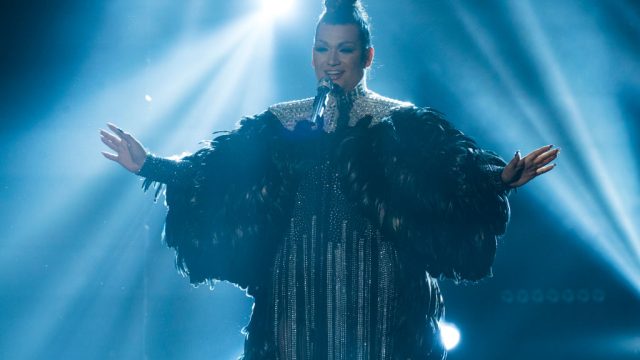 American Idol has given us Jennifer Hudson, Kelly Clarkson, and Carrie Underwood — and for that, we will always be grateful, but on Monday, April 23rd, 2018 American Idol did something even more iconic. For the first time ever, a drag queen has made it into the Top 10. Drag performer Ada Vox didn't get enough viewer votes after her performance on Sunday night to advance into the Top 10 — so, judges Katy Perry, Lionel Richie, and Luke Bryan made an "executive decision" and voted Ada into the Top 10 themselves.
Ada performed "And I Am Telling You I'm Not Going," which is incredibly fitting for a last-chance performance, but she killed it. Perry stood for the entire performance and the audience chanted "Ada! Ada!" Where was this audience support when Ada didn't have enough votes the first time around? We digress.
"I don't know everything," Perry told Ada. "But I think we do know talent when we see it."
And just like that, the judges willed Ada into the Top 10. Perry later told reporters that she and her fellow judges weren't sure if they were allowed to do that. "We all looked at each other and we saw the math…excuse us, we're going to step in now. Were we allowed to do that? We found out we were," Perry revealed after the show (via People.com).
You can watch Ada's thrilling performance below:
https://www.youtube.com/watch?v=p3r_puQXbJA?start=238&feature=oembed
Ada (real name: Adam Sanders) has been auditioning for the show since she was 16. So this honor has been a long time coming.
"I have a much bigger skin this time around. I'm not afraid to hear the hate. It can bounce off of me and I can use it to build myself up," Ada told People.com earlier this month.
We'd like to think that this perfect intersection of new judges is why Ada is finally getting her time to shine.