You might not have noticed this about Shelby on "American Horror Story," and we need to talk about it
American Horror Story: Spoilers.
Let's just assume everyone is up to speed on the latest American Horror Story episode, "Chapter Two" (and if you're not, what are you doing here? But also, hi!). This week we learned that the Roanoke house used to be a former assisted living facility and just about half a dozen people were killed there by two sisters, Miranda and Bridget. It's still not ~entirely~ clear why they were so into murder, but they were big fans of it. They were also only killing people based on their first names, so they could then spray paint a giant MURDER on the living room wall.
Really.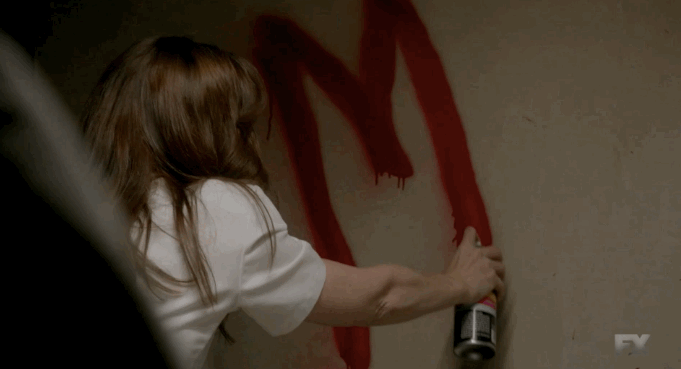 However, they only managed to kill five people (with first names starting with M, U, R, D, and E), so instead of being Murder House 2.0, the Roanoke House is actually Murde House, lolz.
Anyway, what we need to take away from this is that letters are CLEARLY a factor in this new season, considering the fact that the sisters sought out patients to kill based solely on the letter of their first name. While they needed to finish their giant MURDER wall mural, something drove them out of the house before they could finish, meaning they never got to the R. Might they still be out there (as ~ghosts~) looking for someone with a name staring with R?
But, why are we even talking about this? Shelby is wearing two necklaces — WITH LETTERS.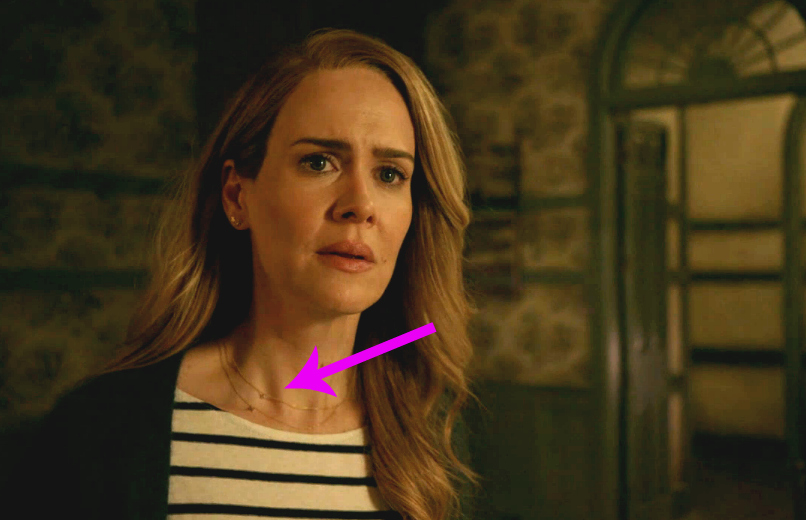 IDK about you guys, but wearing one necklace is sometimes a struggle because it's so easy to get tangled up in it (jewelry is hard, okay?). But now try wearing TWO necklaces. And that's why I keep being oddly bothered by the fact that Shelby is wearing two small chains around her neck. At first, I thought they were stars, or some other dainty design. But after "Episode Two" and some zooming and enhancing, it's clear that she's actually wearing letters.
Talking head Shelby is wearing the same necklaces.
The bottom letter is, without a doubt, an M. M is for Matt...BUT ALSO FOR MURDER.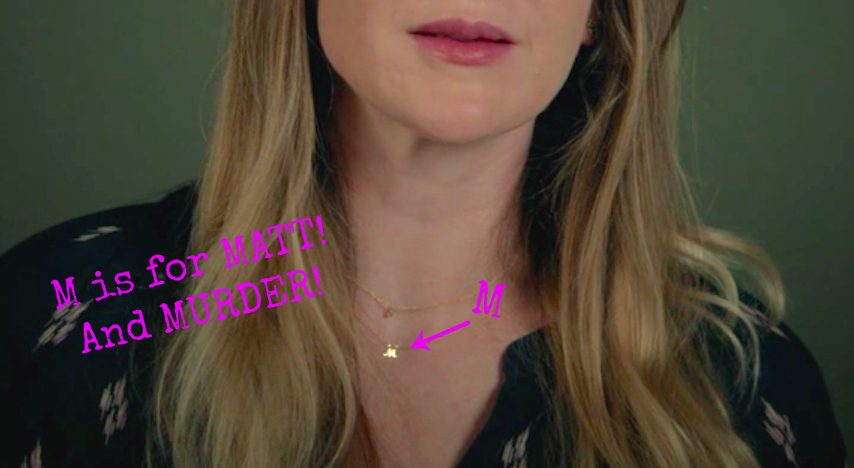 It is VERY HARD to tell the top necklaces. It's easy to assume that it's the letter S for Shelby…but what happens if it's not. What happens if the letter is actually for the baby Shelby miscarried, and they named the baby, and they gave her a beautiful R name (like, IDK, Rachel), and her necklaces is actually an R…FOR MURDER.
Is this a stretch? Yes. But listen, it is way too coincidental that we learn letters are a big factor in Roanoke, and then Shelby just happens to be sporting some letter bling.
Shelby might have a bigger connection to these nurses than we realize. She, at first, *is* the only one who senses ~evil~ when they move to the house (while Matt, meanwhile, is like THIS IS GREAT!). Does this mean Shelby might already be marked? Should we be worried? Or is this a tiny hint that she's going to finish what the nurses started and take care of the R herself?