The theme for American Horror Story Season 8 has officially been revealed, and it feels so right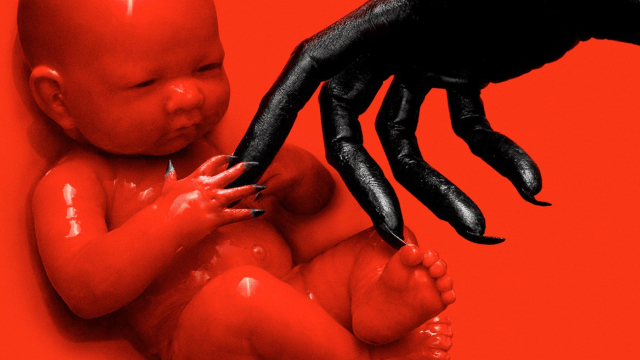 We finally know the theme for the upcoming season of American Horror Story and it's downright world-ending. After being confirmed as the long-awaited crossover between the Murder House and Coven seasons,it's been revealed that the upcoming season has officially been titled American Horror Story: Apocalypse…and it's coming on September 12th.
According to TVLine.com, the eerie new title of the popular FX series was first unveiled during a massive "reveal" event at San Diego Comic-Con. And if the unsettling theme doesn't shake you to your core, the season's promotional images definitely will. Looking like it's straight out of a classic horror movie, FX released photos featuring a creepy red baby — complete with sharp black claw-like nails — and an ominous black hand.
It seems the devil is in the details:
https://www.instagram.com/p/BlceA_An5T4
As TVLine points out, the promotional art is definitely playing a creepy homage to the classic horror movie Rosemary's Baby. (The only thing that could make the new season more chilling would be adding Mia Farrow to the cast.) A number of AHS alums have already been confirmed for Apocalypse, including Sarah Paulson, Evan Peters, Kathy Bates, Billie Lourd, Emma Roberts, Adina Porter, Leslie Grossman, Billy Eichner, and Cheyenne Jackson. The upcoming season will also see Dame Joan Collins join in on the "fun."
While we'vefinally learned the upcoming season's title, the plot details — including how Murder House (Season 1) and Coven (Season 3) intersect — are currently tightly under wraps. Series creator Ryan Murphy previously revealed in January that the season would be set sometime in the future.
It's worth noting that the Apocalypse cast features a number of Coven alums, while Peters — who has appeared in every season — is the only Murder House cast member to be confirmed thus far. September 12th can't come soon enough.