There are three more "American Horror Story" teasers, and they are the creepiest yet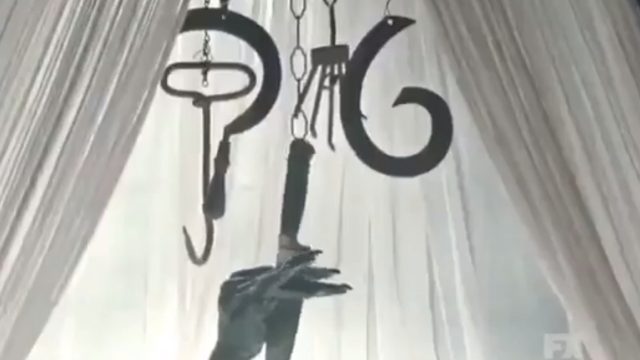 What do cornfields, baby cribs, maybe aliens, and stairs have in common? The just might be a huge part of American Horror Story Season 6.
With the new season fast approaching, FX has been dropping all sorts of tiny little AHS breadcrumbs for us to find, and then obsess over. Yesterday, we were treated to three, quick 10-second long teasers, each quite terrifying. Now today, we're getting a longer look at some of these scenes, plus a few new ones. You might want to watch all of them with the lights on.
The only clue we have about Season 6 is that it's got something to do with "children." That's it. We're certainly seeing some traces of kids in the new trailer, but like, probably a murderous-baby demon, if we're really calling it like it is. Or maybe a baby alien, IDK it's all so much and also so little at the same time. false
The two brand new scenes in this clip show us a deserted field, and then just THREE PEOPLE WITH GLOWING EYES SHOW UP. There's also someone stapling someone else's head together, in a ?6 design. (And honestly friends, I can't figure out the voice, whose voice is that??)
It really feels like Season 6 is going to bring a lot of elements from past seasons into play. There's already the theory about Vivian baby, Michael, playing a part somehow.  And hey, remember when Kit Walker (Evan Peters in Season 2) was just straight up abducted by aliens and you were like "wait, what?" Might those aliens be the people with the GLOWING EYES?
There's also the child running down the stairs with the hands reaching out for her — and remember that one time all sorts of interesting things happened in the basement of Murder House?
We haven't even discussed the creepy centipede just crawling over what really looks to be Lady Gaga's head. That relates back to…Coven? No, Freak Show. No, omg, it's too much to take.
Eventually we'll figure out what all these weird, and creepy, things mean, and we'll most certainly tune in when AHS returns to television on September 14th.