Ryan Murphy is hoping to pull a ~Beyoncé~ with "American Horror Story," and we're okay with that
Is Jon Snow in charge of this season of American Horror Story? Because we still know nothing about it.
JK JK, lol. Jon Snow isn't in charge of AHS (but seriously, can you imagine what kind of horror stories he has to share?). The AHS honor actually falls on the shoulders of Ryan Murphy, who has been with the show since the very beginning, as creator, showrunner, and writer.
He's also the one responsible for keeping the theme and setting of AHS Season 6 completely under wraps.
At the Creative Arts Emmys Saturday night, Murphy walked the red carpet (for both AHS honors, and the People vs. O.J. Simpson), and joked that he still couldn't revel anything about the upcoming season because he "signed a blood oath."
And with three days to go before it finally lands on TV, he's still not spilling anything.
"We really did commit to [keeping it a secret]. It's fun, right?" he joked to YouTube channel GoldDerby. "We were talking a lot about it before this season, and usually I make a big thing about announcing the title and announcing who's in it. And we just decided to 'do a Beyoncé' this year, and just drop it, and let people experience it and have fun."
If you look up Beyoncé in the dictionary, the first definition is "queen" and the second definition is "queen of dropping things suddenly and surprisingly on the world and watching everyone freak out." That's exactly what Murphy is going for this year.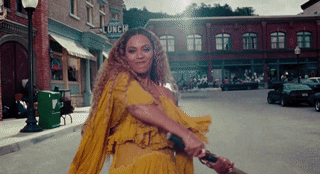 "It's a horror show, and it has suspense, so we thought [the surprise theme of Season 6] would fit in that narrative."
Oh yes, Season 6 already fits in with SUSPENSE, alright. At least it's all over Wednesday at 10pm, where undoubtedly someone is going to slay.