There was an epic "American Horror Story" and "Scream Queens" party, and we're sad we weren't invited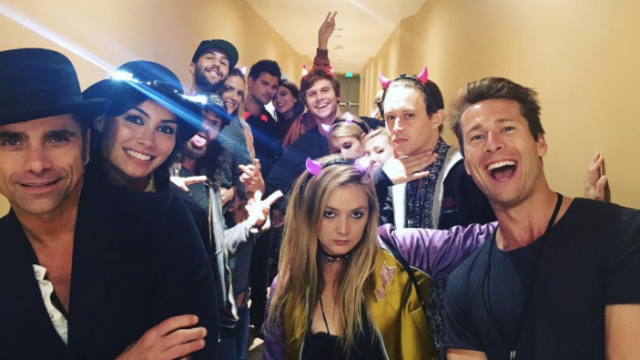 If we had to pick the two most *perfect* Halloween shows out there, obviously we're going with American Horror Story and Scream Queens. Though neither one of them is actually rooted to the Halloween holiday, both have had killer (pun intended) Halloween episodes, along with a hefty dose of murder and mayhem literally all the time.
They also boast many of the same cast members, and that's just what happens when you join Ryan Murphy's horror world. And you know what they say: Ryan Murphy cast members that stick together, also go Universal Studio's Halloween Horror Nights together.
Over the weekend, there was the most epic AHS/Scream Queens get-together, and we are forever sad we weren't invited too (let's pretend our invitation just got lost in the mail). The group included, but was by no means limited to: Evan Peters, Emma Roberts, Billie Lourd, Abigail Breslin, John Stamos, Taylor Lautner, and Glenn Powell. And Josh Peck, because it was also a mini Grandfathered reunion, too.
It's fitting that this group decided on HHN as their destination, because there's actual a (terrifying) AHS maze this year. Hopefully they all braved it together, because no Ryan Murphy cast member gets left behind.
Along the way, the group also stopped to pose with some fans, and our hearts are so happy right now (and also scared, because you know, Hollywood Horror Nights).
https://www.instagram.com/p/BLrOGs5hMoC
And of course, rode some rides, too.
It appears as if everyone had a scary good time, and made it out of HHN alive...too bad the same can't be said for this season of American Horror Story or Scream Queens just yet.