"American Horror Story" has created a way for you to actually join the Season 7 "Cult" — if you've got some free time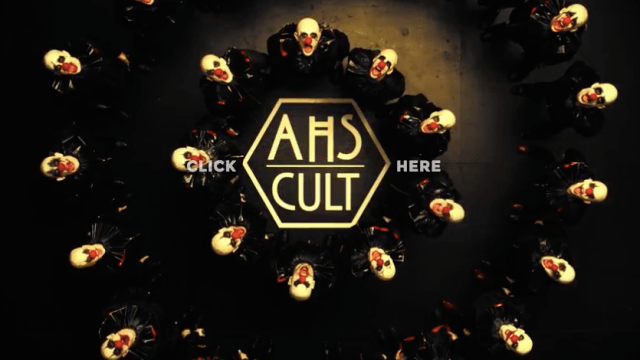 Right around this time last year, American Horror Story made the very bold decision to not release anything about the new season before the new season premiered. Surprisingly, it paid off, even though it gave me a major headache trying to weed through the correct, and incorrect, teasers. This year, the FX anthology show is (thankfully) taking a different approach, and has revealed a theme and a few plot details already.
But you didn't think that would be it, did you?
Instead of sending us on a wild chase looking for clues, this year AHS is asking us to join them — literally. When the title was revealed last Thursday, a website flashed across the screen (or water, if you're me, and you were standing down by the water in San Diego, waiting for Ryan Murphy's ~big reveal~), telling you to go to AHS7.com.
There, you'll find a sparse website, and after you've "clicked here," Facebook Messenger opens up. If you click "get started" suddenly you'll find yourself chatting with one of the members of the "cult," and let's pretend that it's Evan Peters, even though it is 100% not Evan Peters.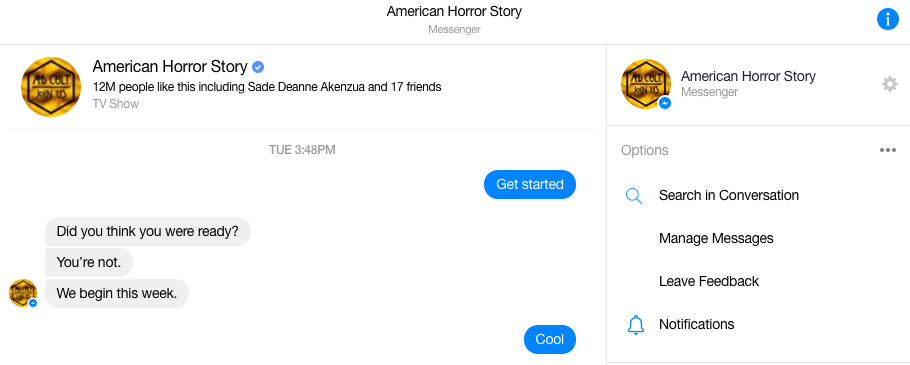 For the next seven weeks, leading up to the premiere of Season 7, AHS is planning to drop hints and clues on the website for what we can expect during Cult. In an interview with The Hollywood Reporter, the FX marketing team explained that they were looking to do the opposite of last year. "We wanted to take a different approach after least season. We didn't want to not give people the theme or any information and felt they would be tired of that approach," Joseph Paulding, FX's vice president of social media, explained.
Jason Phipps, FX senior vice president of digital media marketing, added, "Ultimately we want to have them come with us on this journey as we drive to the premiere, bring them into our fold and really make them a part of our experience."
Well, now that I'm part of the cult myself, I totally feel like I'm part of the experience!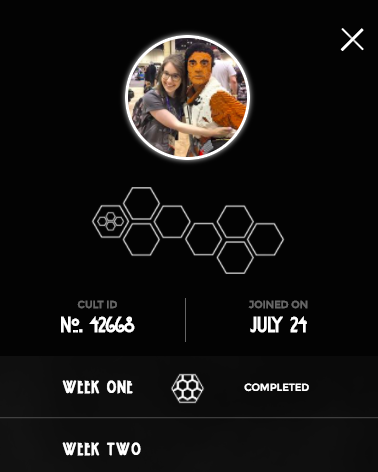 Thursday marks one week since the theme reveal, which is probably when Week 2 of the ~interactive~ AHS experience will kick off. Can't wait to meet the other 42,668+ cult members.