Here's the deal with the clowns on "American Horror Story: Cult," and have fun never sleeping again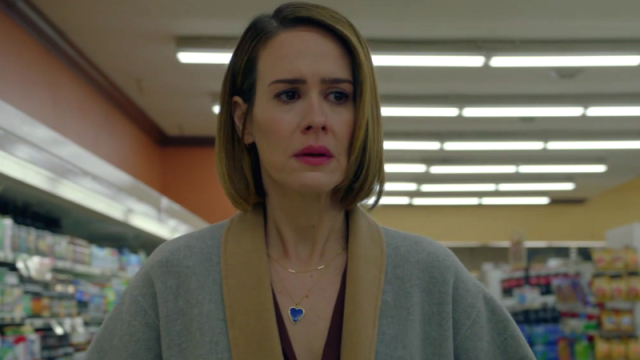 American Horror Story is back, and for Season 7, it really leans into its title of an American horror story. How'd you like to relieve Election Night 2016 all over again? If you tuned in for the first five minutes of "Election Night," you probably had lots of flashbacks — and not all of them good.
But, just like Ryan Murphy promised again and again leading up to the premiere, this season isn't about the election, but rather, the fallout. And clowns!! As the promotional material for AHS has been hinting, this season will involve a lot of clowns, and consequently, the fear of clowns (aka, coulrophobia). After watching the season premiere of AHS, you might have a fear of clowns, too.
There are actually two parts to the AHS clowns — Twisty the Clown, and all the Other Clowns.
Twisty, as you will fondly remember, is a character from Season 4 of the anthology series, Freak Show. He was a very twisted clown, and killed a lot of people (before he met his end at the hands of Dandy Mott). Now, he's back, but only sorta back. It appears as if the legend of Twisty has made its way into mainstream, as now he's a comic book that Ally and Ivy's son, Oz, is fond of — even though his mom Ally (played perfectly by Sarah Paulson) is terrified of clowns, and just seeing this comic book is too much for her.
Now for the Other Clowns, that's all due to Ally's coulrophobia, which pops up at the most inconvenient times. She happens to go to the grocery store one night, only to have a group of clowns attack her — or, "attack," as the police can't find the clowns, and everyone assumes she is hallucinating. As soon as one of Ally's fears are triggered — she also suffers from trypophobia, fear of small holes, and hemophobia, a fear of blood — the clowns just APPEAR. And usually they're like, masturbating or trying to attack her with a knife. It's heavy stuff.
However, Ally is not the only one who sees these clowns. 10-year old Oz sees them, too, and sees the clowns drive up in an ice cream truck, and then kill the next door neighbors. But, the bigger question remains: Did he see them? Are these clowns real? Is he hallucinating them as well? Did these murderous clowns really kill the Changs next door?
And, because AHS is intent on making sure we never sleep again, the episode ends with Ally in bed, only to find that there is a also a DEMONIC CLOWN IN HER BED. Sweet dreams, everyone! Until next week!