This is not a drill: Connie Britton and Dylan McDermott are returning for American Horror Story: Apocalypse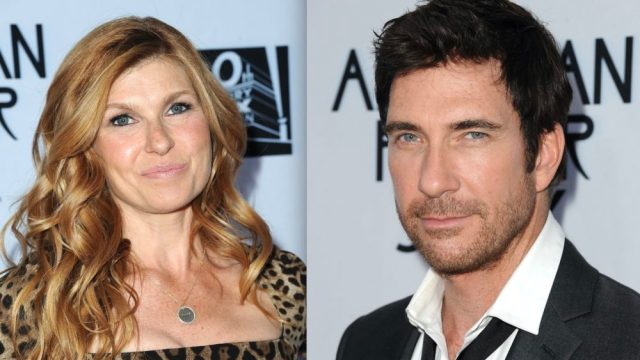 Gird your loins, American Horror Story fans: Two of our favorites (and in fact, our OG favorites) will be making their grand return in the upcoming season. That's right—Connie Britton and Dylan McDermott—who played husband and wife in the iconic first season (aka Murder House)—are making a comeback.  Apocalypse is already shaping up to be the biggest and best season yet, IOHO.
American Horror Story fans will know that Britton and McDermott starred as married couple Vivien and Ben Harmon. They didn't come out of Season 1 alive, and their spirits are trapped within the Murder House walls for the rest of eternity. However, at this point we have no idea if Britton and McDermott are reprising their roles as Vivien and Ben, or if they'll be returning to play completely new characters.
https://www.youtube.com/watch?v=YqRKkUqrN6E?feature=oembed
The highly anticipated American Horror Story: Apocalypse is a crossover between Murder House and Coven, so we can expect to see a few more familiar faces as well. Other AHS alums set to return include Taissa Farmiga—who previously starred as Vivien and Ben's daughter, Violet—Jessica Lange, Evan Peters, Kathy Bates, Adina Porter, Cheyenne Jackson, Billy Eichner, Leslie Grossman, and Billie Lourd. Coven witches Gabourey Sidibe, Lily Rabe, Stevie Nicks, and Frances Conroy are also slated to make a comeback. And Assassination of Gianni Versace star Cody Fern is set to portray the grownup version of Murder House's Antichrist baby, Michael Langdon. false
During a Television Critics Association (TCA) panel earlier this month, executive producer Alexis Martin Woodall essentially said the upcoming season is going to be epic. "The story begins with the end of the world, and then our world begins," she said.
American Horror Story: Apocalypse will make its debut on FX on September 12th at 10:00 p.m. ET.