Sarah Paulson will star in "American Crime Story: Katrina" following shake-ups, and everything is falling into place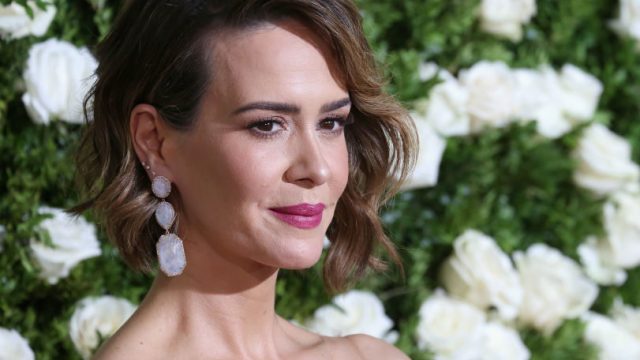 There have been some shake-ups surrounding Ryan Murphy's upcoming American Crime Story: Katrina, but it looks like the project is picking up again, and Sarah Paulson — one of our favorite actresses/humans — is joining the cast.
She's set to play Dr. Anna Pou, a real-life doctor who was accused of giving lethal drugs to dying victims in the aftermath of Hurricane Katrina. It's currently unclear if previously announced cast members Dennis Quaid, Matthew Broderick, and Annette Bening will be a part of this creative pivot.
In addition to Paulson's casting, news also broke that American Crime Story: Katrina will now be based on the book Five Days at Memorial by Sheri Fink.
That book is described as follows on Amazon:
"After Katrina struck and the floodwaters rose, the power failed, and the heat climbed, exhausted caregivers chose to designate certain patients last for rescue. Months later, several of those caregivers faced criminal allegations that they deliberately injected numerous patients with drugs to hasten their deaths. Five Days at Memorial, the culmination of six years of reporting, unspools the mystery of what happened in those days, bringing the reader into a hospital fighting for its life and into a conversation about the most terrifying form of health care rationing."
From what Murphy says, he and his team are working hard to portray the tragedy properly, which at least partially explains the delay in production.
"We're trying to get it right," Murphy told The Hollywood Reporter back in 2016. "We're not going to shoot it until we get it right and we had that liberty with O.J. We had more than half of the scripts done and pretty much locked before we started shooting. We're in no rush; we just want it to be good and to get it right."
We're so glad to hear that they're handling such sensitive, tragic material with care, and we're looking forward to watching American Crime Story: Katrina when it airs.