America Ferrera just shared a powerful message about standing with immigrants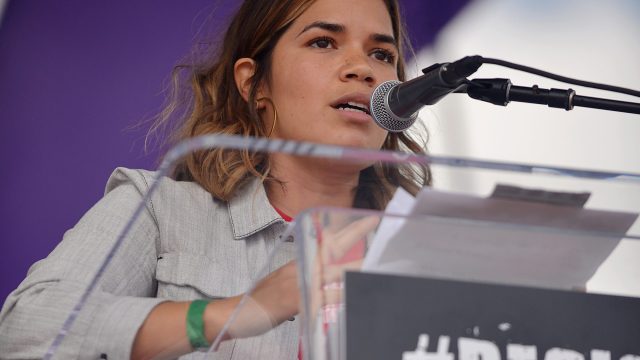 America Ferrera is an inspiration to us all. She delivers empowering speeches and spreads body positivity in a way that makes us damn proud to be women.
Yesterday, Ferrera took to Instagram to talk about an extremely important message: immigration.
In her post, she voiced her support of all immigrants coming to the United States. Ferrera is the daughter of Honduran immigrants. She understands firsthand the struggles they face. She can also recognize the contributions that immigrants have made to the country. With the image, she posted a heart-felt caption:
"Yes, the Dreamers, college graduates, doctors, lawyers, artists, and police officers, but also the farm workers, housekeepers, dishwashers, car parkers, child rearers, street vendors... I stand with ALL immigrants, because it's not our educational status that makes us worthy of dignity."
https://www.instagram.com/p/BV_DCmxDsab
It's not just about the contributions that they make, or what they bring to the table. We should be supportive of immigrants because of their humanity. They deserve respect and support because it is the right thing to do, no matter their educational status or occupation. Ferrera continued:
"The fact that we are human beings is what makes us deserving of being treated with decency and humanity. May our love and protection of our immigrant brothers and sisters extend far beyond the end of #immigrantheritagemonth. #IStandWithImmigrants"
Fererra has been using social media to spread her message. She was also part of a YouTube PSA with the same message.
https://www.youtube.com/watch?v=MC2MEjzEZ2Y?feature=oembed
She also participated in the #Ham4All challenge on Twitter. We're glad to see her join the amazing group of people like Weird Al who are singing Hamilton for a great cause!
This challenge supports the Immigrants: We Get the Job Done Coalition that backs several Latino and immigrant organizations. By donating, you get a chance to see 'Hamilton' on stage in L.A. So it's definitely a win-win.
We're so glad to see celebrities like Ferrera being open with their immigration stories. We hope that her visibility and her message help people realize the importance of recognizing the humanity in others. By supporting the immigrants in our communities we are making our cities, states, and countries better and more welcoming.
What a great way to use her platform!