America Ferrera and her husband were officially the most adorable couple over the weekend
America Ferrera has been one of our faves since she brought one of the most beloved book characters to life — Carmen from Sisterhood of the Traveling Pants — and simultaneously stole our hearts over ten years ago. Then, of course, we fell for her all over again in Ugly Betty (motion to bring that back for a Netflix revival, please and thank you).
And recently, she's been killing it politically. She and Lena Dunham presented a joint speech at the DNC, and we're STILL fangirling over it, even months later. Seriously — she's talented, picks great projects we love, is politically aware and active, and obviously she's beautiful on top of being smart and savvy. What's not to love? What MORE could she possibly do?
Well, turns out, she's also one-half of one of the CUTEST COUPLES EVER.
America Ferrera and husband Ryan Piers Williams, a filmmaker and self-described activist, went to the Museum of Contemporary Art in Los Angeles over the weekend, and took the above adoooooorable picture together in front of one of the installations. It's kind of too cute to handle. We're sorry if we've overwhelmed you.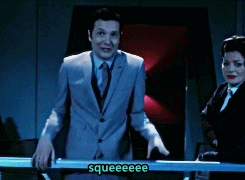 On top of being too cute to handle, America Ferrera and Ryan Piers Williams are also the Hollywood power couple of our dreams. A year before they were married, Ryan directed America in The Dry Land, a well-received indie film that garnered award nominations for America Ferrera, and the film as a while.
Clearly, they make a good team. And you know what they say — the couple who makes great art together, stays together. We think it's totally cool that they aren't just aligned when it comes to their vision for their futures, but also for their artistic visions.
We're definitely going to be stalking both of their Instagrams for further proof of their overall perfection. Perfect example:
https://www.instagram.com/p/BKycn8ahpcD
Ahhhhhh it's too much.