America Ferrera gave birth to a son, and we're totally digging his name AND his nickname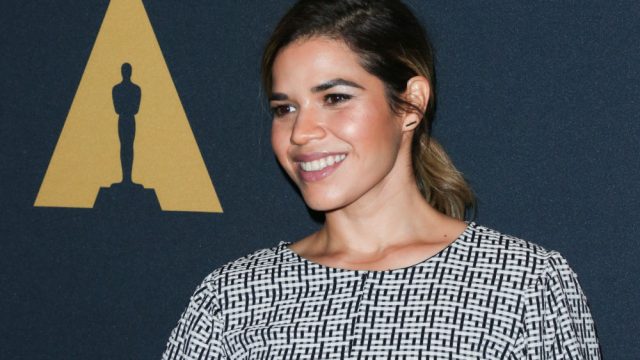 Congratulations are in order! Superstore actress and all-around amazing human America Ferrera just welcomed a baby boy with husband Ryan Piers Williams. Ferrera announced the news via her Twitter and Instagram accounts today, May 29th, along with the most adorable pic of the baby's tiny foot in her hand.
Not only that, but America revealed her new son's full name and nickname — and we're totally digging both. "When 2 become 3… Welcome Sebastian Piers Williams – aka Baz! We are happy, healthy and totally in love!" she wrote.
There you have it: Sebastian…aka Baz. So sweet.
https://www.instagram.com/p/BjXlwQCDh6W
The actress and her husband announced they were expecting on New Years Eve 2017, posting, "We're welcoming one more face to kiss in 2018! Wishing you #MasBesos in the New Year! #babybesos #HappyNewYear." And we're obviously so happy they shared their baby joy with us.
Ferrera met Piers Williams when he cast her in his student film at USC, and they got engaged in 2010. They married in 2011 in an intimate ceremony surrounded by close friends and loved ones. This is their first child together.
Ferrera has had a ton of support from friends throughout her pregnancy. In an April 18th interview with UsMagazine.com, she said she's in regular contact with her Sisterhood of the Traveling Pants costars, Amber Tamblyn, Blake Lively, and Alexis Bledel — all moms themselves.
"They are a go-to for me, just one message away and I ask them a million questions. Everything from trying to wrap my mind around the actual birth to talking about what their experiences were and what to prepare for, she said. "I'm so lucky that I have so many amazing women around me. Having their support has been everything.
So many congrats to the couple. Now…more photos of baby Baz, please.