America Ferrera reveals the story behind that epic "Sisterhood of the Traveling Pants" FaceTime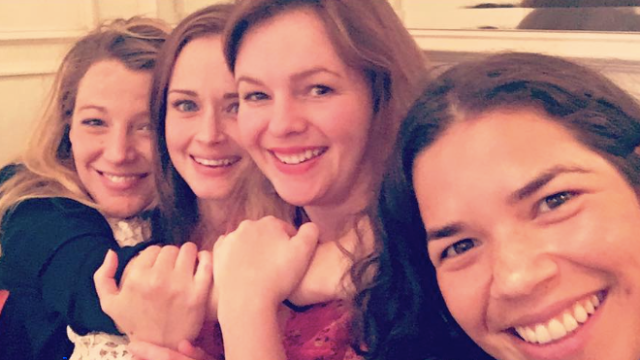 This is what friendship looks like! America Ferrera joked about her Sisterhood of the Traveling Pants BFFs trying to make her jealous and we just love it.
When Ferrera visited the Late Late Show With James Corden she talked all about her Sisterhood best friends, Blake Lively, Amber Tamblyn and Alexis Bledel and it's giving us all the feels.
After Lively and Tamblyn posted a picture of them FaceTiming the Superstore actress on New Year's Eve, we've all been dying to know exactly how that sassy photo came about.
"This year has taught us a lot. But it's reminded us to practice something we've always known…'Love your pals. Love yourself,'" Lively captioned the original photo.
https://www.instagram.com/p/BOvFU9Dg7I4
Ferrera reposted the photo writing, "Together for the new year come hell or highwater. #HermanasdelosPantalones? #facetime #2017 #missingAlexis?."
Despite sharing the funny photo from ringing in the new year together, the 32-year-old actress admitted they really did it to make her jealous.
"They called me, but you think it's nice, but really they were just calling me to make me jealous like, 'Haha, we're here and you're not,'" Ferrera told talk show host James Corden. "I  mean — I think that's what they were trying to do."
"Those are not real friends," fellow guest Jim Parsons said after hearing her story. "That is not a sisterhood," Corden added in.
LOL this is just too funny.
https://www.instagram.com/p/BO3fTaAApJ-
Obviously the former Ugly Betty star was totally joking and added in a few sweet words about her longtime besties.
"They're lovely. I love them," she said. "They were saying 'Happy New Year. We love you. We're together.'"
Okay, enough is enough we need to see all these ladies back on the big screen once and for all!
Who's in for another Sisterhood of the Traveling Pants movie?