America Ferrera has a message for other pregnant women under coronavirus stress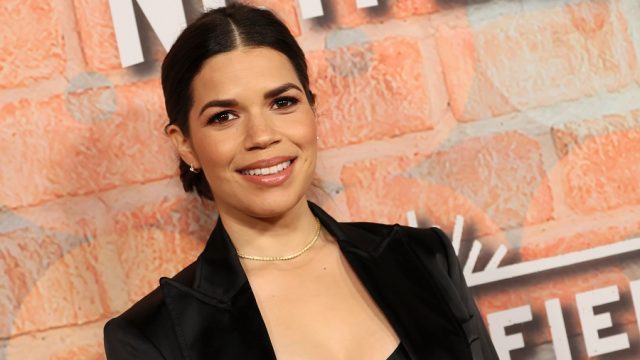 While all of us are dealing with the stress of coronavirus (COVID-19), the situation is all the more difficult if you're already in the midst of something else life-changing. Like, say, having a baby. This is the case for many people out there, and America Ferrera gets it, too. On April 14th, the actor posted a message for other women who, like her, are pregnant during such a confusing time.
For Ferrera, she's been able to find strength knowing that so many other women before her have welcomed children in a variety of tough conditions, including right now.
"As this baby grows inside and I attempt to breathe through the fears and unknowns of this time, I am thinking of all you other mamas bringing new life into this world right now," Ferrera wrote in the caption of photo of her and her pregnant stomach. "And also of all the women across generations and centuries and borders who have and are currently birthing new life in the midst of so many extraordinary and daunting circumstances."
"Life is a miracle," she wrote, "and mamas make it possible through their strength and power. Hang in there pregnant mamas!"
Ferrera's post definitely puts things in perspective. While the coronavirus pandemic is undoubtedly a hard situation for people all around the planet, hard situations have been occurring for all of human history. This isn't to downplay the horror that COVID-19 has caused, but rather to show that pregnant women can find the strength to overcome this and to welcome their babies, too.
In response to her message, Ferrera received a number of messages from new and expecting moms. "I feel you!!! Hard to be excited when i'm equally as nervous!" wrote one follower. "I had my baby this weekend. It's a wild time to birth! We are in this together," added another. She also heard from a soon-to-be grandparent: "My daughter is in labor right now and I'm going to watch on FaceTime as my first grandchild comes into this world. Not how we planned it, but we are rolling with it." Yep, "rolling with it" is the name of the game right now.
Ferrera is currently pregnant with her second child. She already has a son, Sebastian, with her husband, Ryan Piers Williams. The Superstore actor announced that baby number two was on the way on December 31st, 2019, by posting a family photo on Instagram. She captioned the pic: "Welcoming Baby #2 in 2020! ? Happy New Year from our wild & growing bunch."
At that point, none of us knew how strange and stressful the new year would be. But with her positive mindset, it sounds like Ferrera and her new little one will be adjusting just fine.
As information about the coronavirus pandemic rapidly changes, HelloGiggles is committed to providing accurate and helpful coverage to our readers. As such, some of the information in this story may have changed after publication. For the latest on COVID-19, we encourage you to use online resources from CDC, WHO, and local public health departments, and visit our coronavirus hub.
Lia Beck is a writer living in Richmond, Virginia. In addition to Best Life, she has written for Refinery29, Bustle, Hello Giggles, InStyle, and more.
Read more