America Ferrera shared the first photo with her new baby girl, and we're tearing up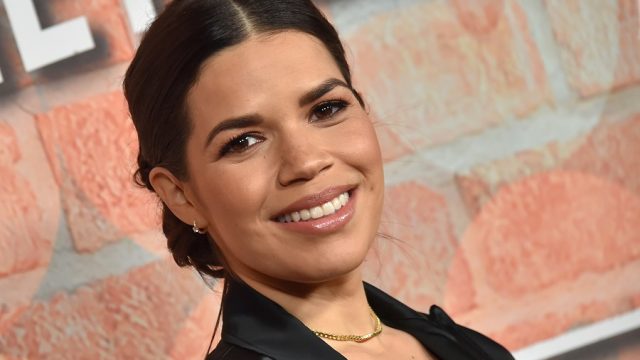 Congratulations, America Ferrera! In a May 11th Instagram post, the actor announced the birth of her second child, daughter Lucia Marisol Williams, who was born on May 4th. (Ferrera and her husband, Ryan Piers Williams, also share a 2-year-old son, Sebastian.) The photo shows baby Lucia's tiny little infant fingers grasping Ferrera's. And maybe there's another set of adult hands in there? It's hard to tell through our tears.
"LUCIA MARISOL WILLIAMS arrived on May 4th to give me my Mother's Day hugs and kisses herself," Ferrara captioned her post.
"Mama, Dada & Big Brother are over the moon to welcome her bright light to our family," she added.
In lieu of baby gifts, Ferrera is requesting that those who are able make donations in Lucia's name to Yes We Can World Foundation, a nonprofit organization that supports migrant families and children in the U.S. and Mexico. Ferrera said that she and her family "collected and delivered essential supplies" to the foundation's mobile school initiatives, which provide "spaces for moms and children at the border to learn, play, and stay safe through these hard times."
https://www.instagram.com/p/CABM9-kh0vl
Ferrera also thanked Elsa Collins, Eva Longoria, and This Is About Humanity for organizing her baby shower (which was canceled due to the coronavirus pandemic) and donations to Yes We Can World Foundation. "And thank you to to all my friends and loved ones who donated gifts to support these beautiful families!" Ferrera added.
We'd also like to point out that Ferrera seems to share really good news specifically on holidays. The actor announced her pregnancy with Sebastian ("Baz") on New Years' Eve in 2017. Then, in a strange twist of fate (or biology), she announced her pregnancy with Lucia on New Years' Eve in 2019. Also, yes, May the Fourth totally counts as a holiday.
https://www.instagram.com/p/B6witE_hPHx
Congratulations again to the Ferrera-Williams family. We'll be waiting patiently for the next round of news on New Years' Eve 2020.