America Ferrera and the 'Ugly Betty' crew hung out at the Women's March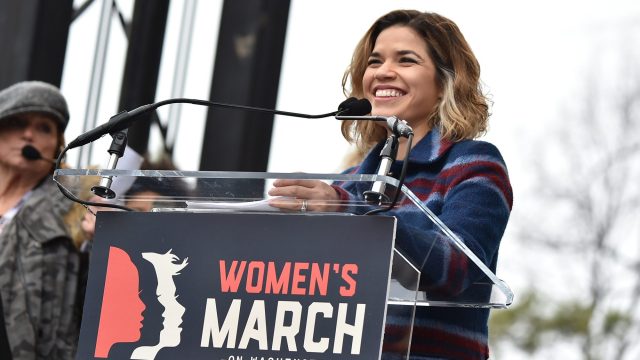 Hundreds of thousands of women gathered in our nation's capital Saturday to show our government that we will not take their proposed changes sitting down. The D.C. march was kicked off by a speech by actress America Ferrera. Ferrera is the child of Honduran immigrants and has been very open in her criticism of Donald Trump. Her speech was impassioned and set the tone for the march. "But the president is not America, His Cabinet is not America. Congress is not America. We are America. And we are here to stay." There were many other celebrities at the march, including Scarlett Johansson, Alicia Keys, Janelle Monae and Madonna. Also in attendance? Ferrera's former Ugly Betty co-stars Ana Ortiz and Mark Indelicato. Ferrera posted a shot of the three on Instagram, hugging at an after march event. For those who may not remember, Ana Ortiz and Mark Indelicato played the sister and nephew to Ferrera's character Betty on the ABC series that ran from 2006 to 2010.
https://www.instagram.com/p/BPjMAxigsLk
Ortiz and Indelicato attended the march together, apparently. Ortiz shared a picture of them with another marcher and Indelicato holding a sign that read, "Get Pissed Off, Not Pissed On. *Unless You're into That!" Indelicato also shared a picture of him with his sign captioned with fist emojis of various colors.
In her speech, Ferrera also added "We are gathered here and across the country and around the world today to say, 'Mr. Trump, we refuse. We reject the demonization of our Muslim brothers and sisters, We demand an end to the systemic murder and incarceration of our black brothers and sisters. We will not give up our right to safe and legal abortions. We will not ask our LGBTQ families to go backwards. We will not go from being a nation of immigrants, to a nation of ignorance." Strong and powerful words from a strong and powerful woman!