Beauty blogger Amena Khan is the first hijab-wearing model to appear in a mainstream hair campaign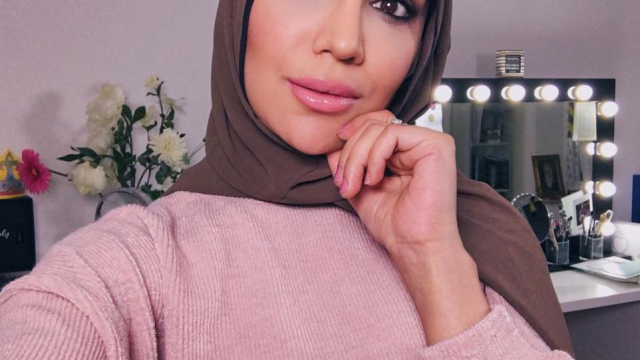 We have some big, exciting news from the beauty community. Beauty blogger Amena Khan appears in a new campaign for L'Oréal Paris. Which makes her the first hijab-wearing model to appear in a hair campaign, proving that haircare really is for everyone. In the ad for L'Oréal's product Evive, Amena Khan proudly flaunts her hijab. "Whether or not your hair's on display doesn't affect how much you care about it," she says.
Khan makes a great point. And it kind of makes you wonder why hair commercials haven't featured hijab-wearing models before. Khan's ad campaign is the first, though, and it marks an important change that's been happening slowly but surely. In November, the world saw the first-ever hijab-wearing Barbie. Last March, Nike debuted a sport hijab. And in 2016, CoverGirl named Nura Afina an ambassador.
Amena Khan was the perfect choice for L'Oréal's campaign because haircare plays an important role in her life. "For me, my hair is an extension of my femininity… It's an expression of who I am," Khan said in an interview with Vogue UK. "If I know my hair is greasy but I have a scarf on it, I still feel rubbish all day — even if it's covered."
Here's Amena Khan in the L'Oréal Paris Elvive ad.
Khan looks amazing, as does everyone else in the inclusive ad.
https://www.instagram.com/p/Bd7WvmhHb4r
Amena Khan's fans have been sharing their excitement on Twitter, and it's so heartwarming to see.
If anyone knows the importance of representation, it's Amena Khan.
"I didn't start wearing a headscarf until I was in my twenties, but even prior to that I didn't see anyone I could relate to in the media," Khan continued. "It was always a cause of celebration when you saw a brown face on television."
This is a major win for everybody. Congratulations, Amena!