Amber Tamblyn just gave us an update on "Sisterhood of the Traveling Pants 3" and we're fangirling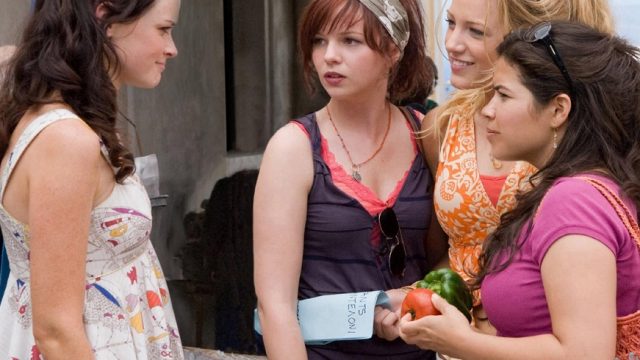 On Friday, Amber Tamblyn celebrated the premiere of her directorial debut, Paint it Black, at the Los Angeles Film Festival. Making the film, based on the Janet Fitch novel of the same name, was a powerful experience for Tamblyn — but that doesn't mean she was able to avoid questions about her most popular project, Sisterhood of the Traveling Pants!
As reported by E! News, she described her first directing experience as "awesome." She went on to say, "It was really fun and also very scary. It was an intense experience all together, but it came very naturally, and I was lucky to have a lot of friends on board. I enjoyed it."
In attendance at the premiere was Tamblyn's former Sisterhood of the Traveling Pants costar America Ferrera. Ferrera even Instagrammed from the event, sharing how proud she was of Tamblyn.
While it's always nice to see former costars cheering each other on, the pair are actually bffs with each other and Sisterhood costars Alexis Bledel and Blake Lively. (In fact, Lively even made the other three co-godmothers of her daughter.)
While Lively and Bledel were not at the premiere, with two members of the Sisterhood around, the world had to know — will Sisterhood of the Traveling Pants 3 ever happen?
Well, according to Tamblyn, there's nothing solid — when asked about a release date she said, "I have no information about that right now."
Just at the moment we were ready to be extremely bummed out, though, Tamblyn added, "But I can obviously tell you that something is definitely in the works."
This news is all the more encouraging considering that last year, Ferrera confirmed that another film was, "very much in the works." So, even without a lot concrete details, it seems that Sisterhood 3 is more a matter of 'when' than 'if,' and all our YA movie dreams are basically coming true.
It's great timing, too — just months ago, Lively was killing us with Sisterhood nostalgia.
Even better, Sisterhood of the Traveling Pants 3 might not be the only collaboration we see from the former (and, likely, future) costars: Tamblyn expressed a desire to keep making movies with her friends. "I actually have a role for America that I've had in mind for a long time," she shared. She went on to say, "I would love nothing more than to just be working with them for the rest of my life."
We can't wait to see the projects these talented ladies will create!