In today's Women Doing Emotional Labor news, Amber Tamblyn helped David Cross realize how he was "wrong"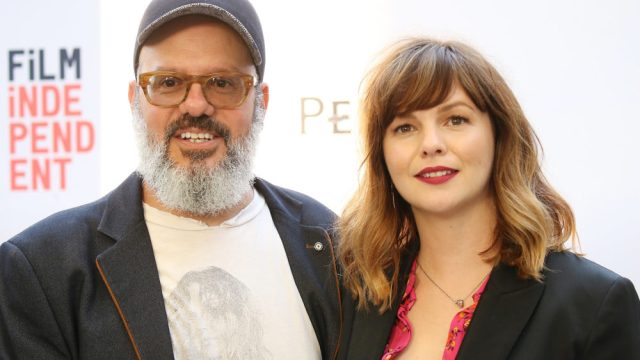 Amber Tamblyn has unabashedly been one of the loudest voices in support of the #MeToo movement and progressive issues in Hollywood. But while the actress is an outspoken advocate, she recently admitted that at times, she's had to educate her husband, comedian David Cross, when he's been wrong or misguided — specifically in light of the Arrested Development incident.
In an interview with NPR to promote her new novel Any Man, Tamblyn opened up about the "really difficult conversations" she's had with her husband as a result of the #MeToomovement. The actress specifically referenced having those conversations after Charlyne Yi accused Cross of making racist jokes at her expense and after the New York Times roundtable with the Arrested Development cast that reduced Jessica Walter to tears.
"Basically he was rightfully accused of doing something racist to the comedian, Charlyne Yi. You know I think the jokes that work for white guys and their white guy comedian friends don't work, always, for women of color," Tamblyn said, of the incident with Yi. "Believe me, his eyes are open to that now, if they weren't before. And this is what it took to have that change."
Tamblyn told NPR that what she "loves" about her husband is that he's been receptive to their conversations, actively trying to change his behavior. Highlighting the Arrested Development interview incident, in which the male cast members tried to belittle an on-set incident in which Jeffrey Tambor verbally harassed Walter, the Sisterhood of the Traveling Pants actress said it was important for the men in the room — Cross, Jason Bateman, Tony Hale, and Will Arnett — to understand their place in the situation.
She said, "I think it was a similar experience where…it's just a continual sense of getting them to open their eyes and getting them to see either how they're helping or they're not helping."
Tamblyn revealed that while she and Cross are consistently having those important conversations in the privacy of their own home, the fact that she hasn't spoken out about them publicly has drawn ire from those who don't feel she's doing enough.
"I helped him to see. That's the best thing that you could do. And you know that was really difficult for our family. We got death threats. And women were coming after me and telling me, 'Oh you can't be the head of a movement and not speak to this," she said. "I really hold a strong boundary with this and believe I've earned the right to privacy. And if you care about my voice and what I have to say at all. You think you know me, then you better assume that I'm having really difficult conversations with my husband about it. Just like all women are."
While it's probably not always an easy conversation to have, we're glad Tamblyn has — and continues to — educate Cross on areas where he definitely needs it, because it's too important not to.