Amber Rose revealed what her life was like after her breakup with Kanye West, and it sounds rough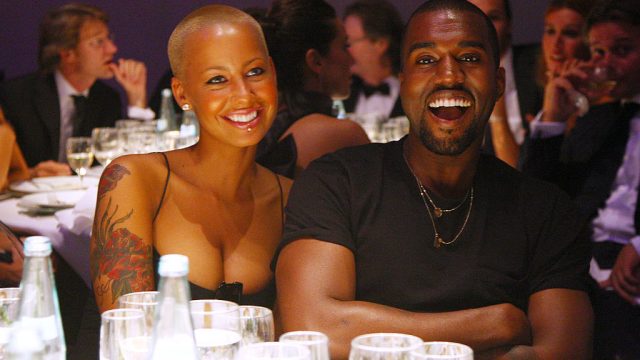 Amber Rose continues to surprise us, in the best way possible. In a recent appearance on Complex's web series, "Everyday Struggle," Rose revealed a lot about her life after she and Kanye West broke up in 2010. It's been years since the two split, and Rose is currently dating rapper 21 Savage, so she's clearly long since over her relationship with West, but it sounds like there are scars left over that we didn't know were made after she and West called it quits.
While there were rumors that Rose was left with money after she and The Life of Pablo rapper split, she set the record straight in her interview and told the hosts of "Everyday Struggle," "We weren't married, he didn't owe me shit, and I had to figure out what I was gonna do with the fame at that time."
Before you start tuning your "world's tiniest violins," hear her out.
Rose explained that she was left at a crossroads after the split. She'd grown up poor — she didn't even have a bed as a kid; she and her mom slept on the floor. After being with West, though, she'd gained a certain level of fame — but she didn't have any of the money that typically accompanies stardom.
She had to figure out what to do to stay afloat. She says she thought to herself,
"I can't go back to Philly, I'm not going to be a dancer again, you know I met a lot of great people during this time when I was with homeboy [West] years ago. I'm just gonna take the steps and find out how to be an entrepreneur and start my own businesses and companies, and that's what I did."
Yes, Muva.
Not only did she have fame with no money at the time, but she was also left heartbroken and bullied online by West's fans who turned on her after the breakup.
West went on to make My Beautiful Dark Twisted Fantasy, an album that's often lauded as one of his best, and was basically able to control the narrative about his relationship with Rose. He put the album out after they broke up, and everyone made assumptions about her based on lyrics from the album that didn't even pertain to her life.
While West went on to use his story about their relationship to make a great album, Rose was left feeling helpless. She says, "The only thing that I got from him was fame, and fame don't get you no fucking money, period."
True. She also mentioned that she intentionally decided to use her fame to propel herself without using West's big name, which she easily could have done.
"I could've got a reality show just off the fact that I was his girlfriend, I could've wrote a book just off the fact that I was his girlfriend...But I'm a real ass bitch, I'm gonna take the high road, I'm gon' work my ass off, and I'm gonna get everything that I'm gonna get on my own, so nobody can be like, 'Yo I gave her that.'"
We repeat: YES, Muva!
Yes, she did write that one tweet intended to kink-shame West, but in the Complexinterview, Rose clarifies that she did that only because West made comments about her son. Okay, we'll let that one go.
https://www.youtube.com/watch?v=se7VOCYxuS0?feature=oembed
Overall, Rose revealed a lot about the situation surrounding her breakup that we hadn't thought about before. Breakups are never fun, but going through one publicly honestly does sound like a nightmare. As Rose explained,
"It's constant scrutiny...I had to be me to get through that, I don't think a lot of people would've gotten through that the way I did."
She truly is one of a kind.