Make some room in your closet, because Amber Rose is coming out with a Reebok sneaker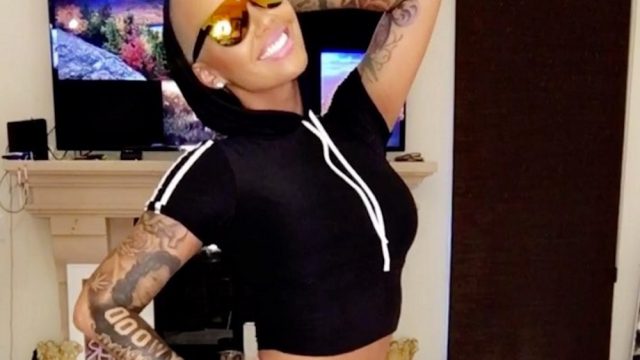 Amber Rose is a busy woman. From organizing her annual Slut Walk to being the face of Flirt Cosmetics, she somehow has time to add another title to her name — designer.
Muva teased a sneaker collab a few weeks back and we've finally gotten a look at her upcoming project. The Amber Rose "Muva Fuka" Reeboks are on the way, and we have a feeling her rosebuds are gonna love all the Amber Rosedness they exude.
For starters, they've got "MUVA FUKA" lace locks, leather laces, a luxe oxblood colorway, and pony hair texture. They couldn't be more fall if they wanted to.
https://www.instagram.com/p/BXi678JB1GA
Sneakerheads may recognize the Freestyle Hi silhouette aka "54-11's" (named after the OG pricing) got a bit of an update. The sole is thicker with a zigzag outsole reminiscent of Fear of God's Military Sneakers.
We can already see Amber pairing her new Reeboks with a head-to-toe maroon lewk and a matching fall lippie from Flirt. If her kicks are giving you flashbacks, you may recall Teyana Taylor hosted a party in honor of the 54-11s and served up major '90s realness while doing so.
https://www.instagram.com/p/BWybEcOBvR-
No word yet on whether the Amber Rose x Reebok collab will include merch or oversized sunnies (how cool would that be?) and no official release date has been announced. If we had to guess, we'd say these will hit stores in early fall.
https://www.instagram.com/p/BVk__Q-hbBY
Their color and detailing are so autumnal, they'll be a perfect accompaniment to all those oxblood sweaters, polishes, and lipsticks we splurged on last year — and we totally plan on bringing them back next season.