Amber Rose posted a nude-from-the-waist-down pic on Instagram for a feminist cause (NSFW, obvs)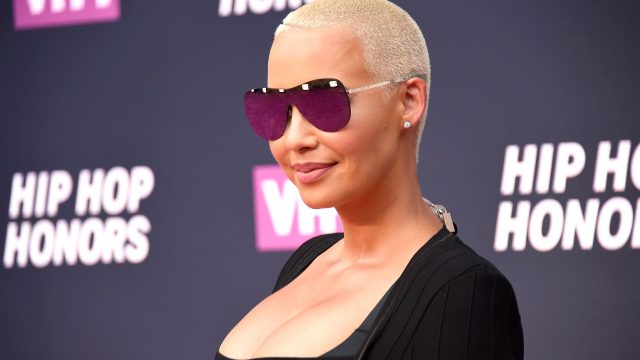 The internet was on fire last night during game 4 of the NBA Finals (it seems things finally got interesting) however, that quickly changed when Amber Rose posted a partially nude, bomb-ass photo to her Instagram page.
Rose didn't just post the snap to show off her incredible body, she posted the image to promote her third annual SlutWalk — the Los Angeles event she created that's aimed at women's empowerment, fighting against gender inequality, and putting an end to victim-blaming by addressing the double standards placed on woman. Talk about feminist AF, right?
In the snap, Rose is casually lounging on a staircase, wearing a black fur coat, a black bikini top, diamonds, sunglasses, and a whole lot of body oil. She is completely naked from the waist down, putting her lady parts and glorious bush on full display for the camera.
The picture was taken down just two hours later by Instagram due to the company's strict no-nudity policy, but it still remained on Twitter with the caption, "#amberroseslutwalk." You can see it below, and again — it's NSFW!
Rose later took to Instagram to post a response to the image being deleted…
https://www.instagram.com/p/BVJaU8QhyUy
In the caption, she wrote, "When IG deletes ur fire ass feminist post but you really don't give a f**k because everyone picked it up already #amberroseslutwalk," and started a campaign with the hashtag "#bringbackthebush."
Of course, the Internet has been freaking out about the state of Rose's natural pubic hair, but Rose doesn't give a flying you-know-what about that either.
SlutWalks officially began in 2011 as a response to a horrible remark made by a Canadian police officer after an increase in sexual assaults on the campus of Toronto's York University. According to media reports at the time, the officer said, "Women should avoid dressing like sluts in order not to be victimized."
Obviously outraged by the comment, women in Toronto took to the streets dressed in lingerie and "slutty" clothing to spread the message that it doesn't matter what a woman wears, she should never be subjected to sexual violence. The responsibility to prevent rape is on those who set out to commit the act — not their potential victims.
This quickly spread, and now SlutWalks occur year-round across the globe. Rose announced she would headline a walk at L.A.'s Pershing Square for the first time two years ago.
https://www.instagram.com/p/BLCEQd8jAS1
"We recognize that shaming, oppression, assault and violence have disproportionately impacted marginalized groups including women of color, transgender people and sex workers, and thus we are actively working to center these groups in this event," reads a statement on the Amber Rose SlutWalk webpage. "We deeply value the voices of marginalized groups and have a strong desire to find common ground among all of our intersections."
We wholeheartedly support this! Amber's third SlutWalk is set to take place in Los Angeles on October 1st. Maybe we'll see you there.