Amazon's new Christmas ad revealed the truth about Santa, and Twitter is not happy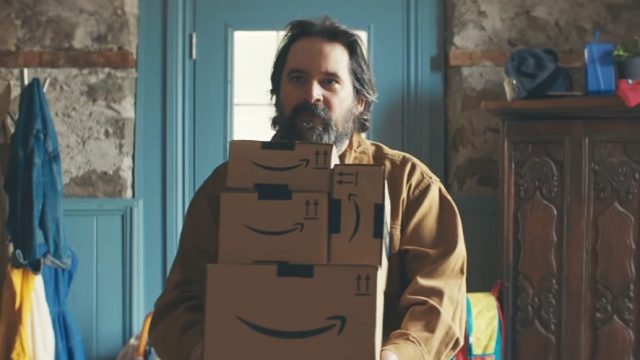 It's that time of year — holiday advertisements featuring Santa and the gang are slowly creeping up on television. And since kids are trying to whittle down their wish lists, they're paying extra close attention. That's why many parents are upset about Amazon's new Christmas ad — since,  well, it might just spoil childhood a little bit for kids who happen to catch it.
The ad itself is relatively harmless. A father is holding a bunch of Amazon boxes, which happen to be singing "Give A Little Bit" by Supertramp. He's looking for the perfect hiding space  while trying to dodge his kids, so that they don't see the big haul.
However, parents seemed to ignore the joy of the singing gifts, and zone right in on the fact that the dad is slyly holding onto multiple packages. In their eyes, Amazon spoiled the fact that it was the dad, not Santa, who supplied the presents. A few parents expressed their rage on Twitter, claiming that the commercial — which aired in the UK — brought upon a few conversations about the man in red that they were hoping to put off for a few more years. It caused enough of an uproar that Amazon had to cover their tracks a little bit with a special response.
Once you see it for yourself, you might not understand what the issue may be.
https://www.youtube.com/watch?v=CBVGjS_EJok?start=1&feature=oembed
In fact, the father kind of looks like we do on any other day — just carrying around a bunch of stuff from an impromptu Amazon order.
Here's just a little bit of the backlash Amazon is facing.
false false
According to a statement from a representative of the company, Amazon's simple solution is to tell kids with questions the following:
"Father Christmas and his elves are no doubt working around the clock to get presents to girls and boys around the world. These are just a few extra to give a little love from parents."
Phew. That was a close one.