Amazon's viral $30 "pumpkin spice sweater" has us in our fall feelings
Our apple cider-scented candles are lit, our weighted blankets are out, and we're refusing to wear anything that isn't oversized and soft. The calendar has officially hit cozy season, everyone, and it's time to burrow into our couches for scary and (yes, already) holiday movies. Amazon wants to help because it's selling an affordable, comfy sweater in the color of autumn's falling leaves, and it's so cute we might even leave the house to show it off.
Dubbed the "spice sweater" or "pumpkin spice sweater" by Amazon Fashion and Instagram fans, the $30 sweater is a must-have for chilly days and nights.
The MsLure Women's Turtleneck Pullover Sweater has everything you want for autumn and winter fashion. The soft and slouchy knit is perfect for the aforementioned burrowing. Its long sleeves have wide, folded cuffs to keep your hands warm if you're running out to grab a PSL, and the cowl neck can sub in for your go-to scarf. We're partial to the orange color-blocked option for maximum fall feelings, but you can also snag it in blue, green, and brick red.
https://www.instagram.com/p/B3u_wpyhbvw
Yes, we know orange can be a tricky color to pull off, but the color-blocking with creams and muted oranges helps tone it down while keeping the fun pop of spicy color.
Check out people wearing Amazon's "pumpkin spice sweater" all over your Instagram feeds.
https://www.instagram.com/p/B3KCimkAeVG
https://www.instagram.com/p/B22yzEHg-A6
https://www.instagram.com/p/B3pWH2bAML-
https://www.instagram.com/p/B3GJvpwFq9x
https://www.instagram.com/p/B22cOpYACkI
https://www.instagram.com/p/B3W8uhzg9PQ
And snag the cozy fall sweater for yourself below: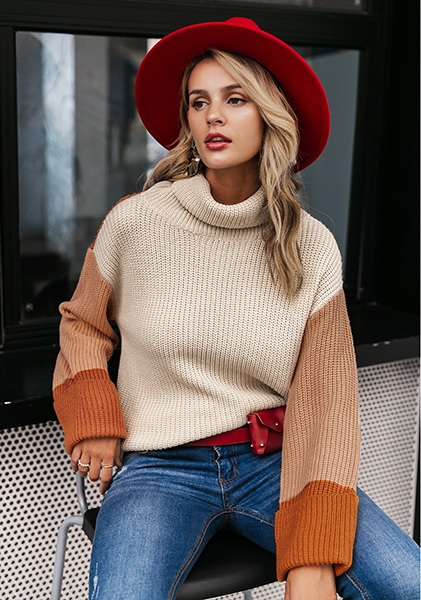 Buy it! $30-$31, amazon.com.
If you buy this sweater, you have to Instagram yourself apple picking or at a pumpkin patch. We don't make the rules.